Last Sunday on my day off, my closet underwent a much-needed rehab session. I have 2 closets - one with only jackets & cardigans, the other with my pants and tops. I also have two dressers - one with tops, shorts & underwear, the other with belts & legwear. I thought I'd take a photographic account of cleaning out my bigger closet. I got rid of a lot, which feels great, and made room for some new spring pieces, as well!
BEFORE: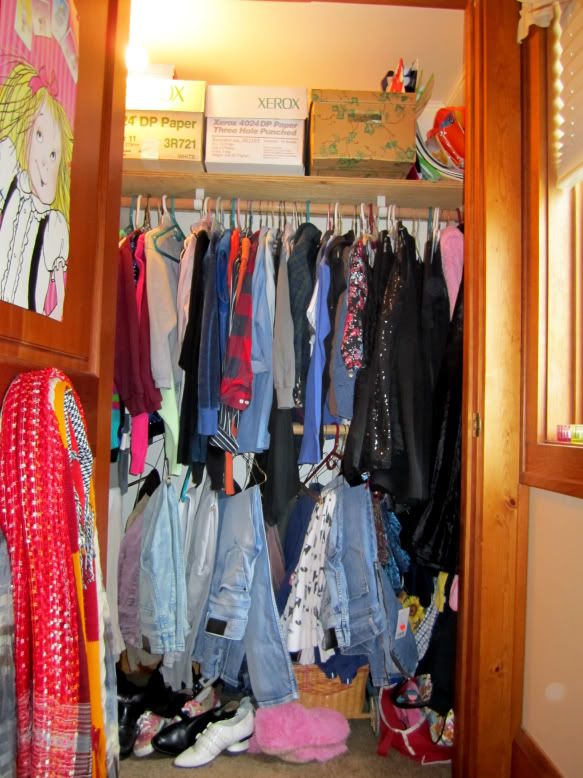 The first thing I did was take absolutely everything out of my closet. It was scattered all over my tiny room and an awful mess. I then vaccuumed out my closet and began. I was separating my clothes into 4 piles, initially, and then condensing them into 3, like so: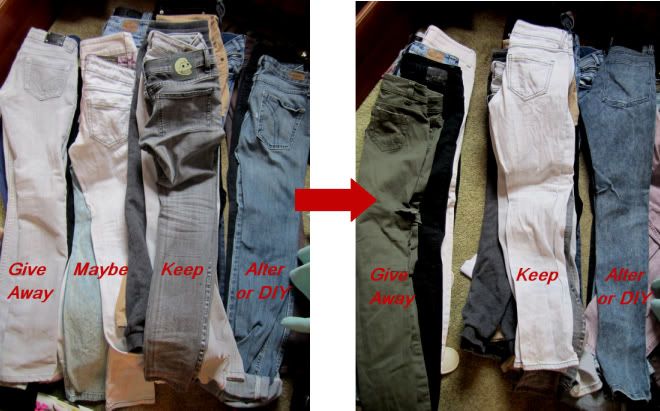 The "Give Away" pile was to be sold or donated. The "Keep" pile is, obviously, what I still hung on to. The "DIY/Alter" pile was for clothes which needed to be hemmed, patched, dyed, re-fitted, etc. I also made a "Maybe" pile for things I was uncertain about.
To decide upon which piles each belonged in, I tried on every single thing. If I hadn't worn anything in the past 6 or so months (weather permitting), it went in the "Give Away" or "Maybe" pile. If I forgot I had it, but still liked it, then I put it in the "Keep" pile. It's easy to forgat about clothes when your closet is such a mess!
Here're my tallies for jeans:
Keep: 13
Give Away: 9
Alter/DIY: 6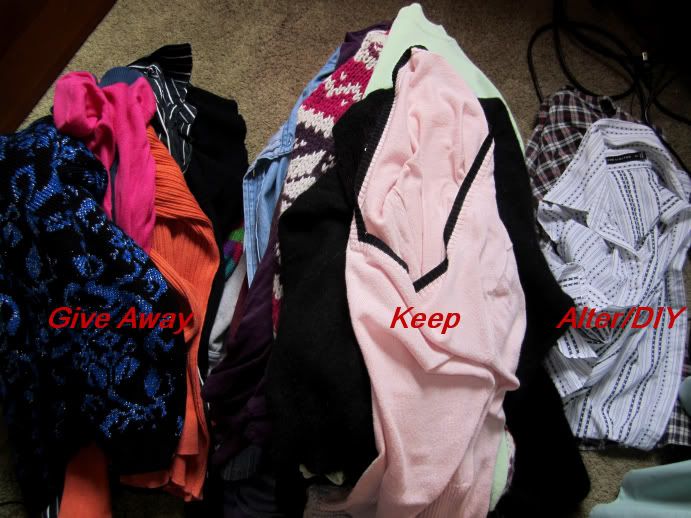 Blouses/Shirts/Sweaters
Keep: 24
Give Away: 11
Alter/DIY: 2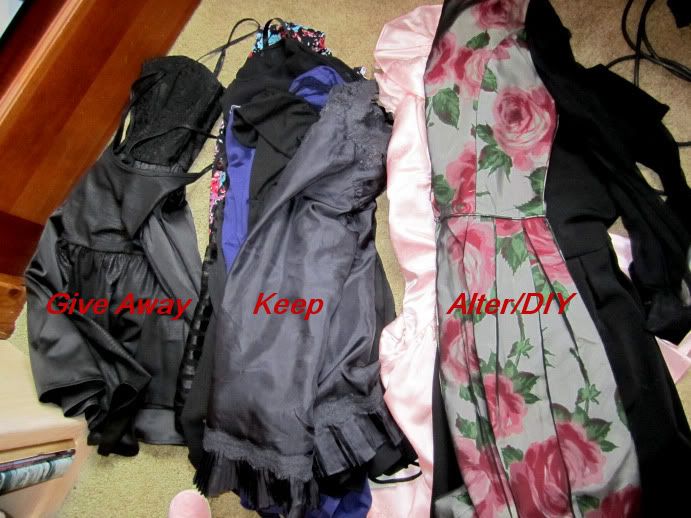 Dresses
Keep: 10
Give Away: 2
Alter/DIY: 4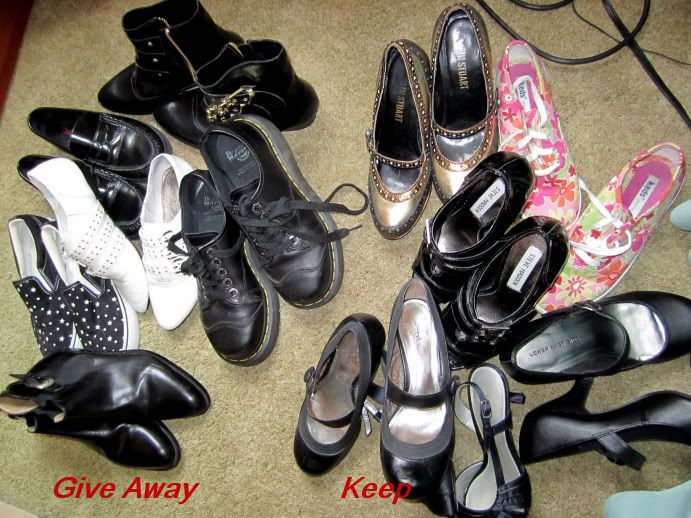 Shoes (in my room alone)
Keep: 6
Give Away: 6
Alter/DIY: 0
Skirts
Keep: 10
Give Away: 2
Alter/DIY: 1
Vests/Cardigans
Keep: 5
Give Away: 3
Alter/DIY: 0
Scarves & Ties
Keep: 8
Give Away: 1
Alter/DIY: 3
I also had a lot of baby dolls and stuffed animals in boxes on the top shelf of my closet. And some calendars going as far back as 1995...! I went through that stuff as well. Some of the toys I didn't even remember ever having, so I packed those up to be donated. I ended up only keeping a box's worth.

I put the clothes to be altered or DIY-ed in my sewing room. Some need to be hemmed, some dyed, some cut into shorts, some used as scrap fabric. The clothes which I'm getting rid of, I ironed and seperated into what will be donated, what will be brought to second hand, and what I will be trying to sell on eBay. As for the clothes I'm keeping, I ironed and put back in my closet, choosing hangers that all matched eachother. I organized them much better and hopefully, with the smaller volume of clothing, will be able to keep them this way.

AFTER: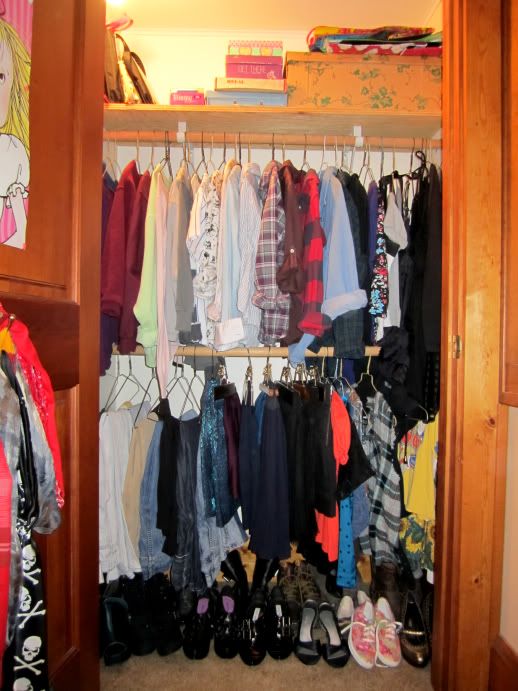 TOP SHELF: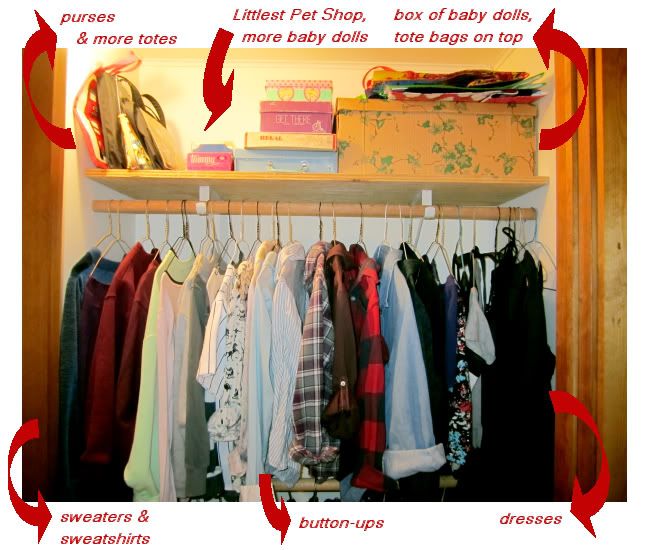 BOTTOM SHELF: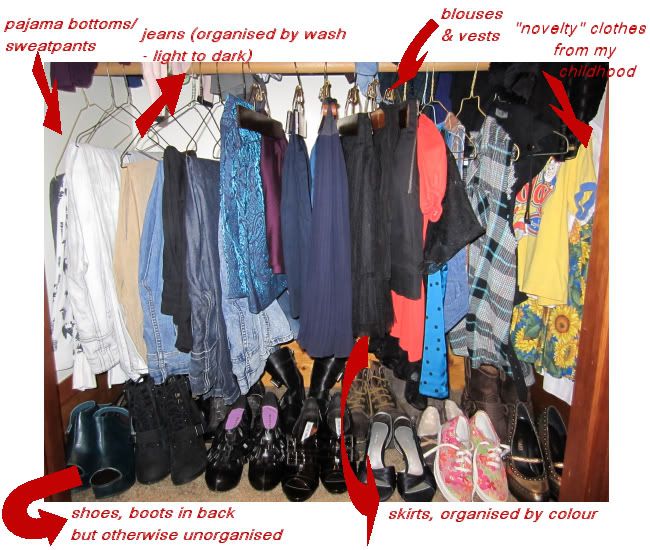 This was most certainly a very productive task! It's so much easier to grab things from my closet, and I look forward to doing my other closet and both my dressers...soon!