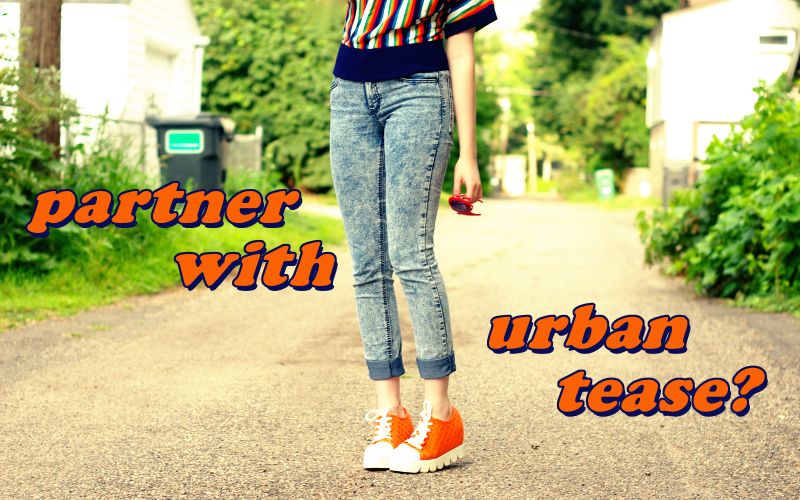 Want to partner with Urban Tease? You've come to the right place! My name is Chloe and I created Urban Tease in 2008. Since then, the blog has secured hundreds of loyal readers and constantly expands to new platforms (have you guys seen the new Twitter? Or Facebook?). The blog consistently draws over 400 views everyday with people clicking in from all types of sites including other blogs, Lookbook, and Chictopia. I have readers all over the world with more coming in every day. Nearly 700 people follow Urban Tease using Google Connect, and over 400 follow via Bloglovin'.

Here are stats from 24 October 2013:



Urban Tease is constantly growing with new content being added all the time. In the past I've featured not only personal style posts, but also DIY projects, makeup tutorials, photography, personal goals, Feminist rants,and book reviews. More than a fashion blog, I prefer to think of Urban Tease as a lifestyle blog promoting kindness and a positive thinking.





Want to advertise monthly on Urban Tease? A banner for your store, blog, magazine, etc. will appear on the sidebar of every page of Urban Tease for the duration of the month. This is an inexpensive and effective option. Two sizes are available:



or two months for $5.00!



or two months for $12.00!

Monthly advertising is a great way to have constant exposure and grab viewers with an interesting image.





Urban Tease has partnered with great success with many brands and stores including GUESS, SwayChic, White Crow, Sole Provisions, yeswalker, Anjolee, Lalamagic, Anastasia of Hollywood, and Misikko. These product sponsorships have included clothing, shoes, gift cards, and beauty products. Some retailers and shops have opted to send me products to wear or review on the blog, while others have opted to offer a giveaway for my readers. Both have proved successful for brands and have often resulted in long term sponsoring. Product sponsorship is great for drawing readers into your shop or engaging them with the brand.
Please note that I do not accept paid content offers. All words written about products are entirely my own and the length at which I choose to speak about products is also at my own discretion.





Please email me at urban_tease@yahoo.com to get started partnering with Urban Tease!