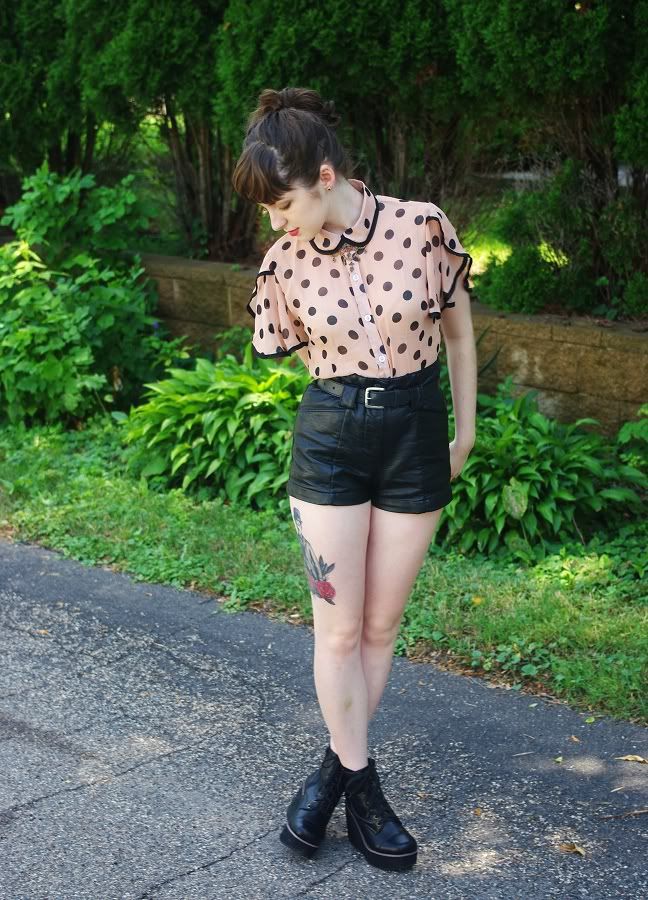 Ye gods, life is hectic! I'm finding myself constantly making lists and phone calls and orders and who knows what else. Either way it's keeping me busy. On top of that, my computer's battery went completely dead. I've ordered a new one, which will hopefully diagnose the problem, but in the meantime this means blogging from a different computer. Which is awkward and uncomfortable. So I'm sorry if this entire post is awkward and uncomfortable as well.
I wore this outfit a few days ago because I was excited to feature this new blouse which is from Lalamagic. It's adorable! I love the fluttery sleeves and the collar. And seriously - the eternal question rises again - who doesn't love polka dots? I also wore the faux leather shorts... Yes, I know I had said I'd never wear them in summer again. I'm so bad...but it wasn't quite as hot out this time. This is proof that I shouldn't segregate my clothing by seasons. Just the other day I was letting out huge sighs of exasperation as I tried to cram some new clothes into my closet, when I thought to myself, "Hmm, maybe I really should pack away some of my winter clothes? I mean, when am I going to wear a giant fuzzy turtleneck in July?" But, I swear Minnesota is so unpredictable and you never know when the weather will change at the drop of the hat. I swear.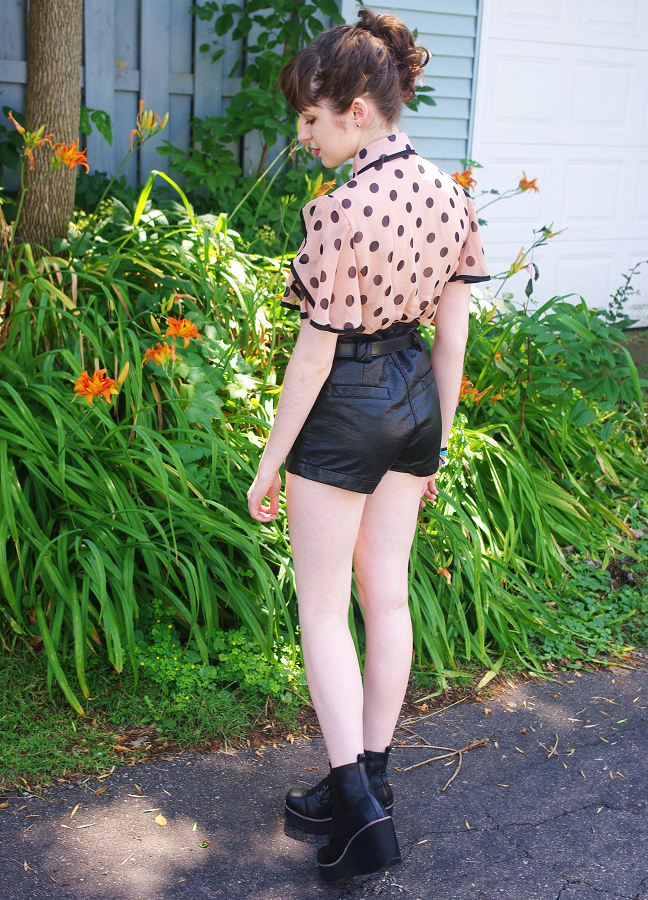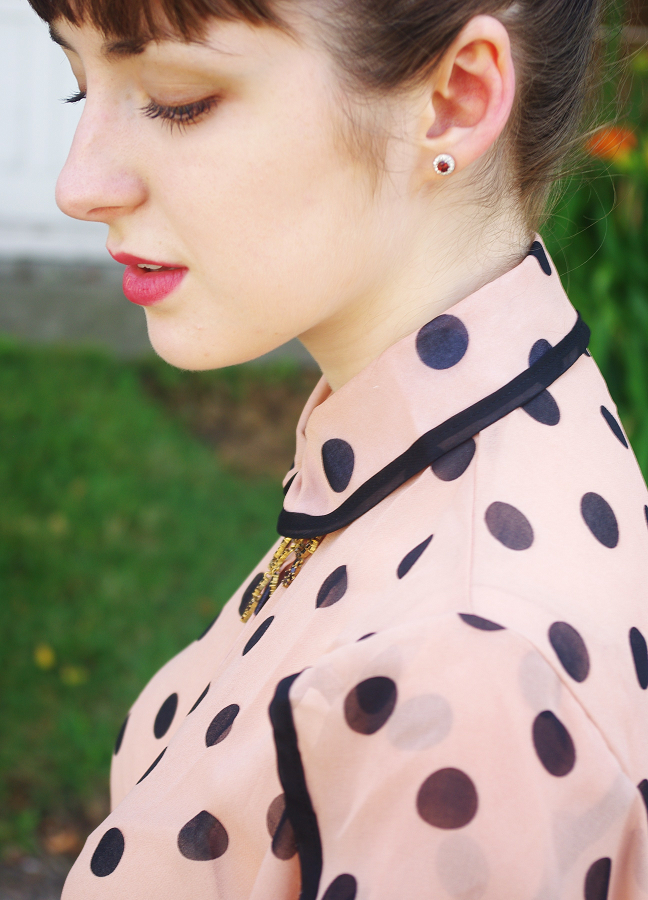 I also am wearing these new earrings which were sent to me by the people over at Anjolee. I couldn't help myself when they emailed and offered to send me a pair. I immediately began envisioning myself wearing them in some '80s inspired ensemble and with my hair in a side pony. I decided to get them in garnet because I had a great grandpa in Germany who was a jeweler and I've inherited some of his garnet jewelry. You can get your own pair of Gemstone Diamond Stud earrings and wear them around with a side pony, radiating '80s kitsch wherever you go. So once again, thanks much to Diamond Jeweler Anjolee for sending me a pair of these beautiful earrings!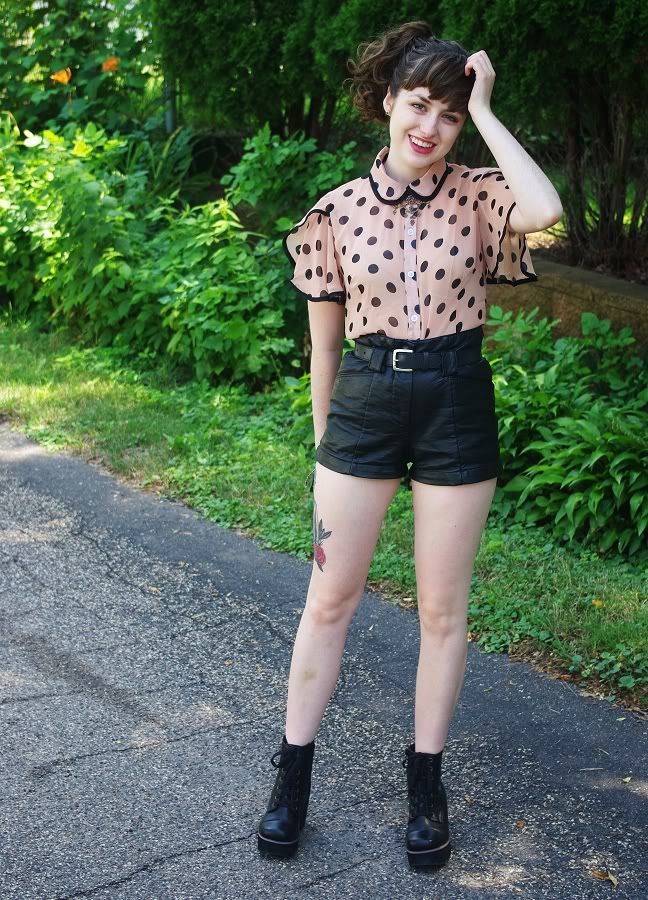 I decided that this outfit needed something else, so I buttoned up the blouse to the collar and threw on the garnet necklace I inherited. Suddenly, I felt very Diana-esque. And when I say Diana, I mean the Princess of Wales. When the "Diana: A Celebration" exhibit came to the Mall of America, I worked it as a gallery attendant/box office person and became very inspired by her. Spending 8 hours a day staring at her wedding dress or 27 of her dresses and outfits will do that to you, I suppose. But even more so, I was inspired by her poise and a certain sadness that always seemed to envelope her when she was in England. It was amazing - in photos of her married or videos of her with Prince Charles, the smile never reached her eyes. She always seemed so distraught, even after her marriage ended. But in videos and photos of her doing her charity work, she was radiant. There's something so beautifully tragic about Lady Di and I often find myself going back to one of her quotations:
"Nothing brings me more happiness than trying to help the most vulnerable people in society. It is a goal and an essential part of my life - a kind of destiny. Whoever is in distress can call on me. I will come running wherever they are."
Diana was uniquely compassionate and expressed great empathy towards people suffering. To think that she was the first person of celebrity to touch a person with AIDS and leprosy - and by doing so, help extinguish the stigma surrounding the illnesses - is just tremendous. It's difficult to even wrap my mind around how devoted Diana really was to the people. She was the People's Princess. I think we can all aspire to be a bit more compassionate and while doing so, also borrow a notion or two from Diana's wardrobe. I have a feeling she would've liked this blouse very much. Maybe not the shoes, but the blouse for certain.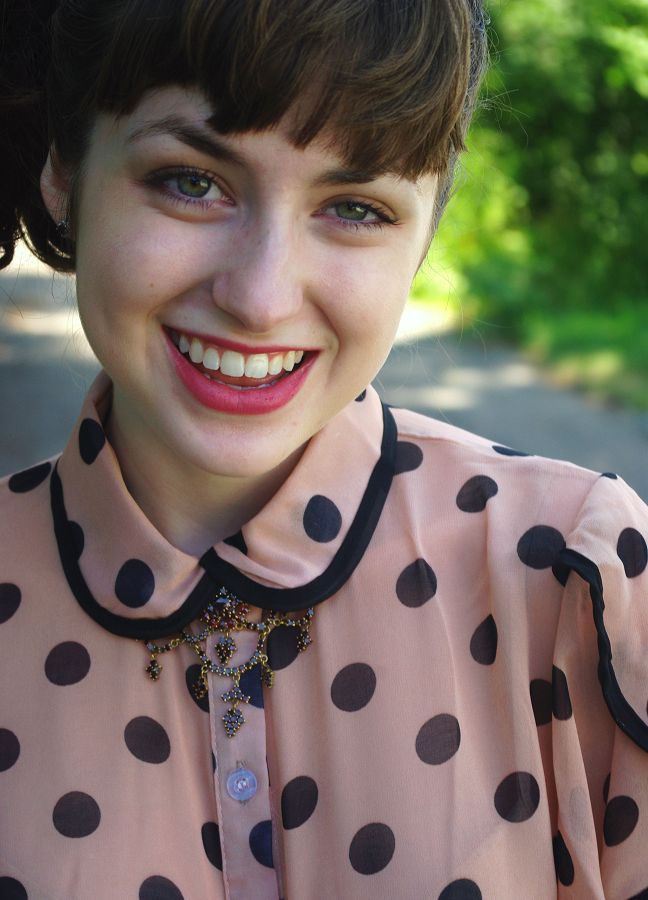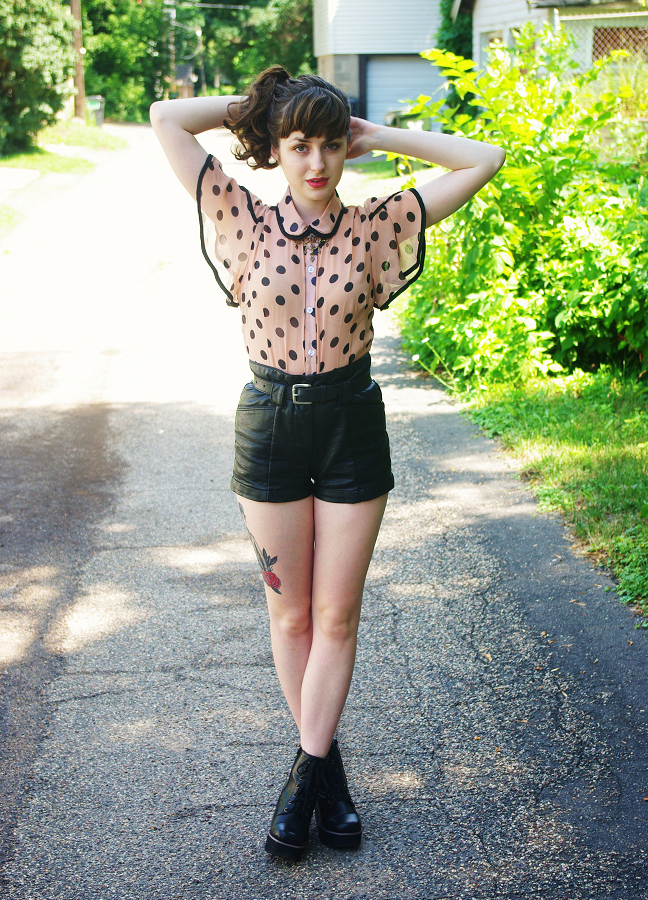 Anyways, I really need to stop going on huge rambles about how much respect I hold for Princess Diana. Or at least, I need to save it for my diary. I swear, this isn't the first time I've gone off on how beautiful of a person she was. Anyways, I'm listening to Pet Shop Boys and feel a groove coming on. Catch you later!