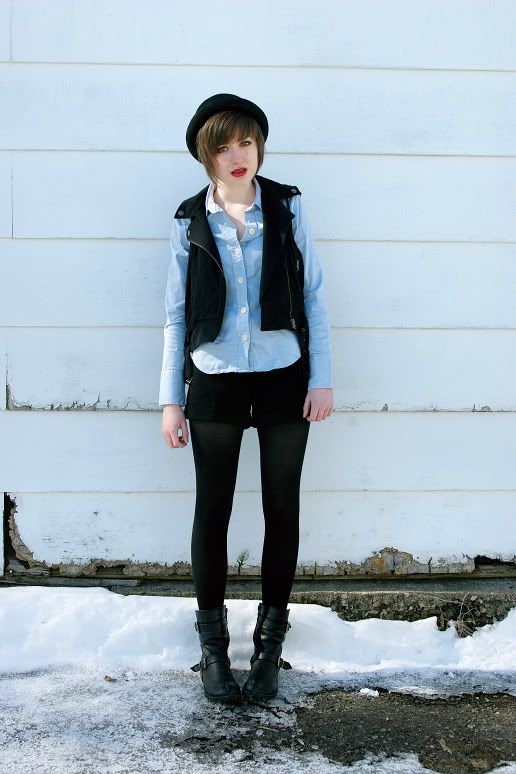 'Sup? This is unusual, to have two outfit posts only a few days from each other. Oh well, I haven't worked since Sunday and I've not been procrastinating with school, so I've had time to do other things. Also, I'm kind of friend-less right now (not that I mind too much) so I've had a lot of free time.
I wore this yesterday when I went shopping. The trip resulted in two skirts, but that is all. I found a really cute sweater at Forever 21 (a shop which I normally avoid) but I noticed that it was 10% angora rabbit hair. I thought to myself a) why does this sweater need rabbit hair? It's just a grey v-neck with a zipper and b) where did this hair come from? So I went to the front of the shop and asked the shop girl if the rabbits which the hair came from are humanely treated. She was dumbfounded (as she gave me washing instructions?) and appeared to not care or even think about whether or not the clothes which she wears comes from rabbits that live their lives in crammed cages, undernourished and sleeping in their own urine, only to have human contact once a month when they're shaved of their coat...and then immediately put back into their cold, metal cells. The store manager was the same way. He called the company or whatever, but they didn't know either!! Oh, mankind! You disappoint me!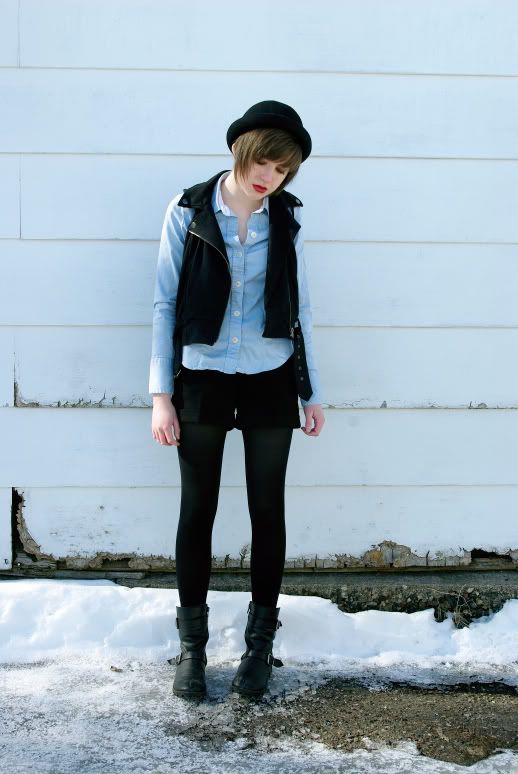 Anyways, this outfit was originally inspired by Fred Astaire (if he, say, drove a motorcycle) but then I also incorporated Charlie Chaplin into it with the bowler hat, as well as the proportions and fit of the vest, shirt, and full shorts. I've been wearing this hat quite a bit lately, as the back of my hair is growing out. Whenever I wear it I think of that part in
Sixteen Candles
when Farmer Ted says, "I love a girl in a hat. It's just....so....VOGUE." I also like to wear this hat while I'm on break from work 'cause I like to be incognito. But one of the Italian kiosk workers told me I looked like Charlie Chaplin and I was like, "Ouch...I'll take that as a compliment?"
My favourite Charlie Chaplin film (among the few which I've seen) is
The Kid
. It's very funny and has the most amazing dream sequence. Plus, the kid is darn adorable! I wonder what happened to him?
Hello there, Charlie. I like your hat! The proportions of his outfits are great - baggy pants, fitted blazer, long, skinny shoes. He created the classy hobo look (which I wasn't actually trying to duplicate this day....).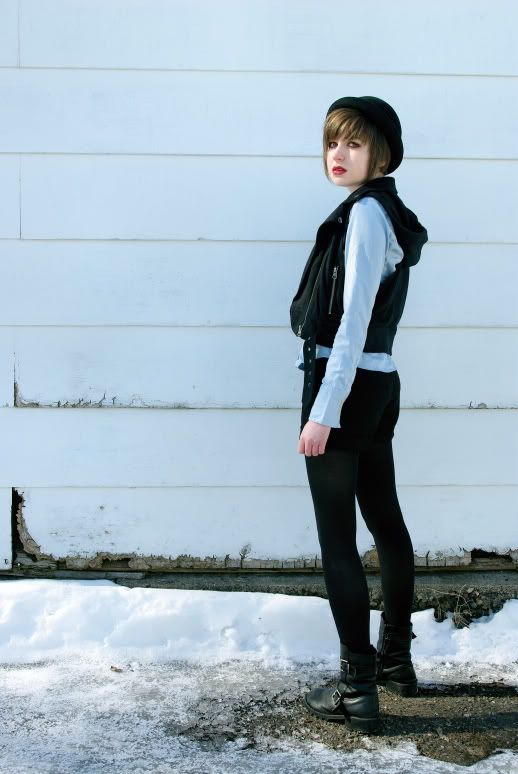 I never really wear lipstick all that much. I wear it when I'm sitting at home alone & bored and just want to play dress up. But otherwise, never in public. I should. I layered like 4 different lip products to get this look. I wish it was darker. I want to try a really super deep red/plum colour. Any suggestions for brands/colours?