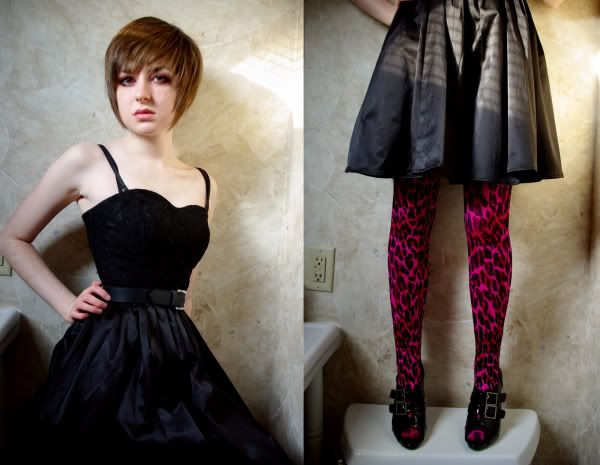 I told you I'd have an outfit post! For once, I am not a liar. I had Wednesday through Friday off from work - my first Friday off since I began the job over a month ago! My old high school was having a dance, so we thought we'd hit it up and then go get ice cream afterwards (cause that's what the cool kids do on Friday nights). Well, the dance sucked. I think I only danced to like 4 - 6 songs. The DJs were awful, they just played like 30 second remixes of songs. So we left, but I was so tired and exhausted from work/school, that I just went home. So I got 10 hours of sleep (but then worked 10 hours the next day, deep frying food)!
These tights are Betsey Johnson. If you've read my blog before, you probably know that Betsey Johnson is one of my biggest fashion inspirations. I grew up with a very eclectic, funky mother (she's part hippie, part disco queen), and so I was introduced to Betsey at a young age. Her bright colours are great (believe it or not, but I love love love hot pink) and she's got the perfect balance of funk & class. These pink leopard print tights added the perfect twist to an otherwise plain(ish) dress.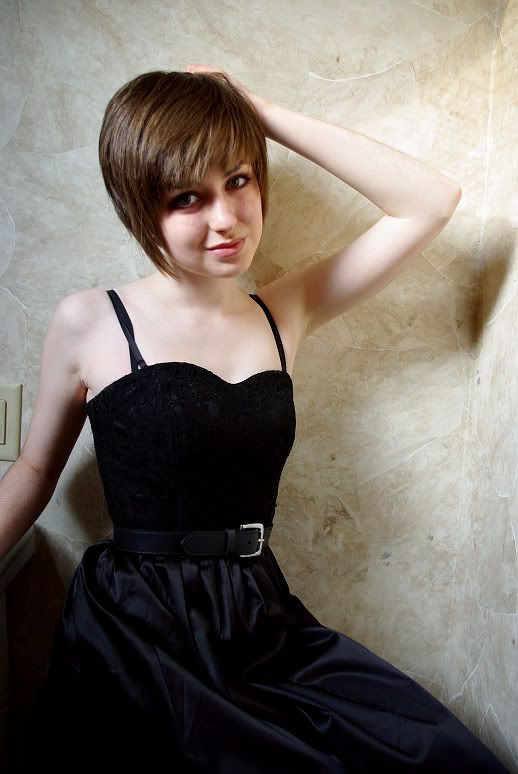 The dress was from the sale rack ($10!) of H&M. It's got a really nice, full skirt, and then a fitted, lace bodice with a heart shaped bust. It's really lovely and princess-y, but it can be a little too much. I thought the tights added a lot of fun, and the shoes made the dress more mature (because, you know, 5 inch platforms can do that).
More on Betsey? I love the whole socks-with-heels-look. I've yet to try it for myself, but I think spring will present the perfect opportunity! These sheer, polka-dot ones are fantastic! The belt really toughens the dress up, and that guy is dressed beautifully! Cut off most of his hair, and I'll take him to prom.
Heeeere's Betsey! She's so....out there! I mean, in the best way. She seems so unique and she always looks like she's having loads of fun. She's one of those designers who you can always depend on - who won't change the look of their label every season, but still come off with really unique, new looks. Also, that sweater is fab! Especially with the leopard print (which Betsey manages to not look trashy in). The dog adds a nice touch, too.
This dress reminds me of
this fantastic outfit which Sushi wore not long ago
. I'm totally a sucker for huge, poufy skirts, and any shades of blue! Also, that guy is so adorable.
On a last note, thanks for all the wonderful comments & emails about my last post. The advice helped a lot! I've been eating loads - hummus sandwiches, quesadillas, ice cream, veggie burgers - and my skin is back under control with the help of egg white masks and tea tree oil! Thanks guys!