Great news folks! I've graduated! (Hence the expression of joy and hope and new beginnings - yeah, there's a lot packed into that smile!) Anyways, to celebrate, I bought myself this pair of shorts. I went to the dreaded Mall of America on Thursday and wandered across (read: purposefully guided our shopping trip towards) the new Bettie Page Store. The clothes are so sweet - '50s sun dresses, lazy day beach rompers, and wiggle skirts, and all in sizes xs to 4x. The girls working there are like darling little cupcakes with victory rolls and hoop skirts. I fell in love with these shorts immediately (who wouldn't?) and snatched them up with graduation in mind.



It has to be said that I've always wanted more curves. As an extremely petite, slim person, even the raindrops miss me. I feel the need to highlight the following to everyone - no one is ever completely happy with their bodies. It's an entirely normal thing and it shouldn't make you (or me) a bad person. I don't put myself down about being naturally slim and I hope that girls with curves don't put themselves down about it either. Embrace what you have and remember that it's entirely normal to feel insecure, as long as, in the end, you love yourself for who you are. Ok, preaching over, let's get back to the shorts. They make me feel like a little pin up girl from an Elvgren painting! The sizes run small, but the xs still fit me fine, with an inch or two of room around the waist (I told you I'm petite!). I've only worn them once and have already been raking in the compliments, which only makes me feel better in them. They're my new feel good shorts and I'm sure they'll get plently of wear throughout the summer...and into fall...and winter.
But enough about the shorts, since I could write a novel about them. Let's talk hats! I was sporting this cloche hat to throw some flapper into the midst and also to tame my curls a bit. I usually detest the flatness of hat hair but it was necessary for the grad cap!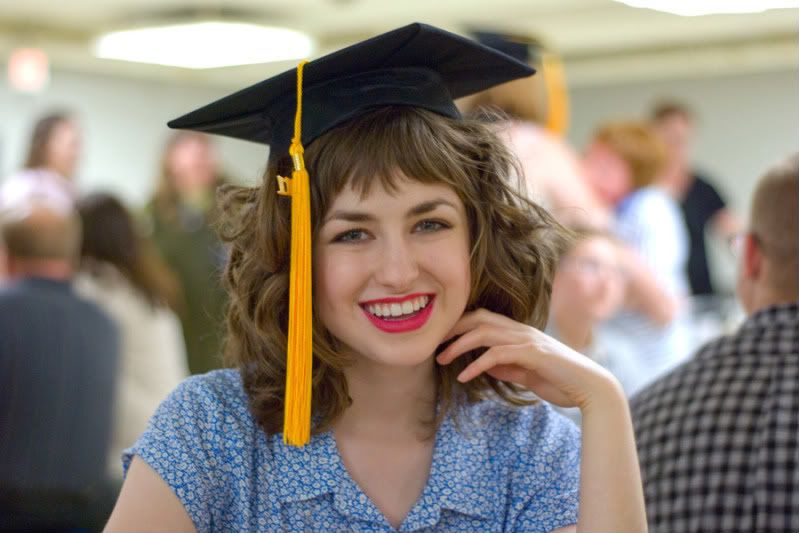 I don't know who invented the grad cap, but he and I need to have a serious chat about how to wear such a contraption with curly hair! The elastic causes curls to stick out like you got electrocuted, and if you have bangs, well...there's really no way to work that. After having both my roomate and mother try to yank it onto my noggin and arrange my bangs and curls, without success, I folded in the sides and pinned it in. Not such a bad technique!


To finish up this outfit and get on with graduation...I'm wearing a blouse from H&M, Madden Girl ruffle pumps, a vintage bracelet from Bohemien Bisoux, Lime Crime's Retrofuturist lipstick, and a new cloche hat which I picked up from a hat shop in Old Town Albuquerque, New Mexico! Oh and of course a brand new pair of un-ran stockings. I was saving this pair just for an occasion in which rips and runs certainly would not do! Unfortunately my legs aren't in great shape what with bruises and bug bites galore, but it's just another sign of summer! And now, a quick run-through of graduation: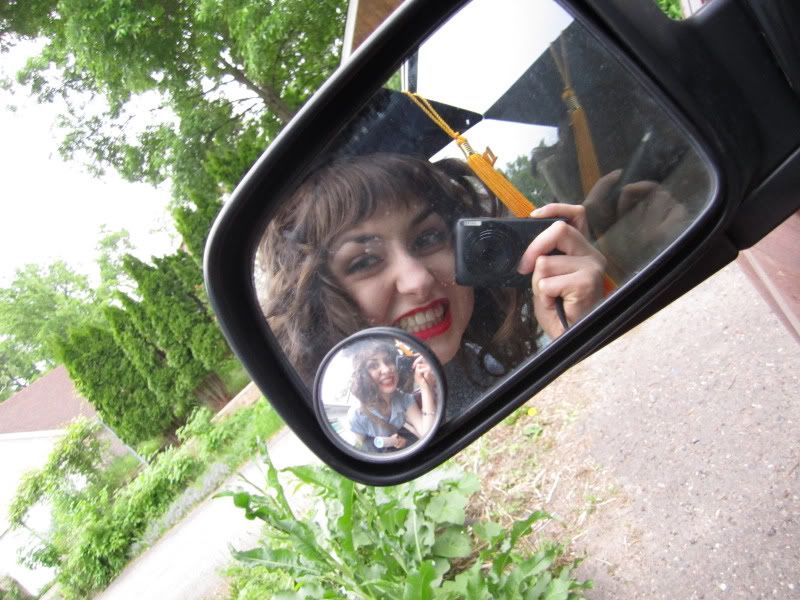 Before the ceremony I was literally all over the place with anxiety! I was taking a photo everytime I caught my reflection and was waving my lint brush around like a mad woman! It's surprising that I was so excited to graduate - I haven't technically been in high school for 2 years! I've been doing full-time college classes since junior year.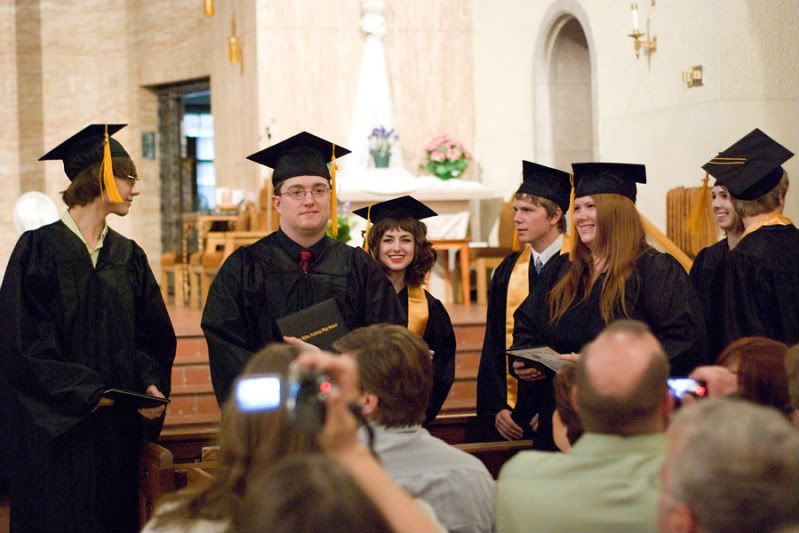 My high school is very small (like me!). There were only 12 other kids in my class. Being back made me a bit sad that I hadn't been around for the past 2 years - these kids had been like a big family to me! It felt great to be back in the swim with the other fish.


I also graduated with honours, and got to wear this cool gold sash!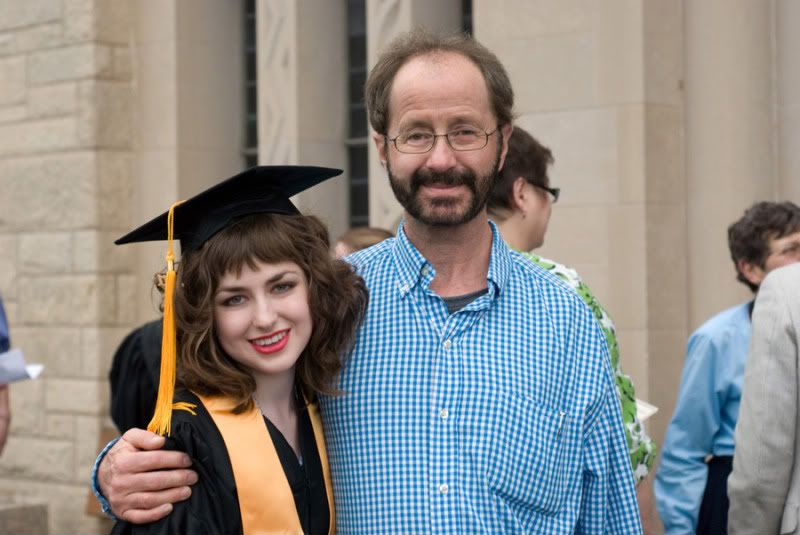 Photos! I actually didn't take many photos with people, but I got a few. This is my father! I was the first one out the door after graduating (it helps that my last name begins with A) and the weather last night was so fantastic!


This boy graduated last year. We used to be best friends & it was so great to be able to see him again! I think he's grown. I was wearing 4 inch heels and he's still slouching!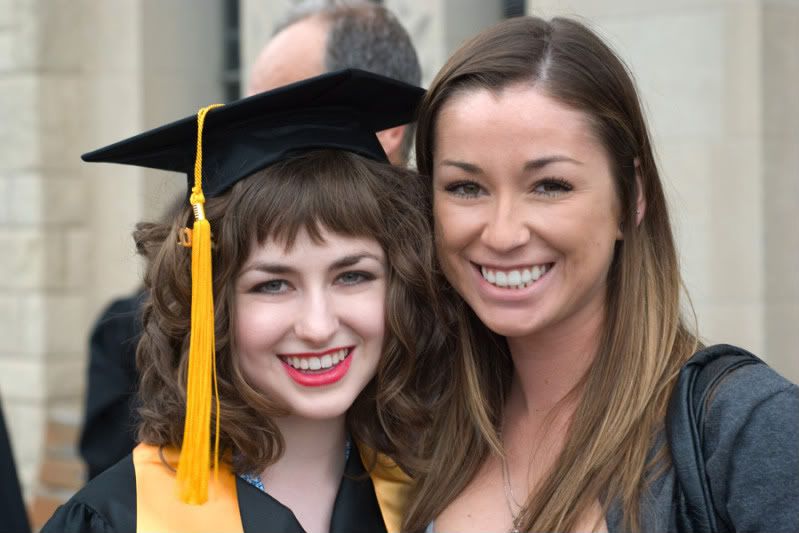 My sister and I have identical smiles! I've never really thought that we looked the same, but we do have the same mouth. She's much taller than me - her being 5'7" and me being barely 5'1"!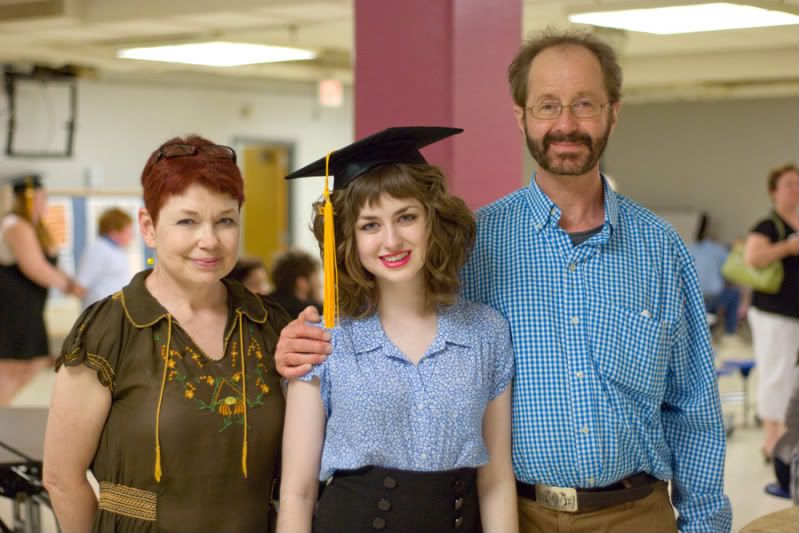 And finally, with both my parents! Overall it was a great ceremony and I cannot wait to start the summer! On the 22nd I'm having my 18th birthday and on the 28th of June I'm leaving for Europe for 32 days. Hopefully a bit of summer love will follow me, as well! Maybe a nice French boy, hmm?