Outfit post! It seems like it's been a while, no? I've been super busy working, catching up with old friends, going on dates with a lovely boy, and getting ready for my 32 day excursion to Europe! Summer's a great time, isn't it? The only problem has been that the weather has been either chilly or very humid and sticky. It turns this whole clothing thing into a very difficult procedure.
Here, I wear an outfit that I wore when I went on a date to the aquarium and then the malt shop. All of my tights have huge runs in them and are absolutely trashed, so I went for thigh highs from American Apparel. I don't regularly shop at AA, but their socks are super warm and cozy, and fairly priced. In the winter, they're actually warmer than pants!

It's been such ever a long time since I wore suspenders! It felt great to strap them back on. I've distanced myself from menswear so much in the past year or so. My last boyfriend had an opinion on what I wore, and so I altered my style to appease him. Now that I'm back in the throws of singlehood and wearing whatever the Hell I want, I've been resorting to menswear accents.
I've also become addicted to hairbows! I went to H&M during break at work and bought every colour of hairbows from the kid's section. They get lost in my curly hair, so I usually wear them with my hair up. When I have late nights and not enough time to do my hair in the mornings, I've been putting my hair up into two buns on the top of my head, and then clipping in little bows. I thought it was sort of a childish style, but turns out the boys love it! My coworker was laughing at me the other day because she knew that that was exactly what I DIDN'T want to happen!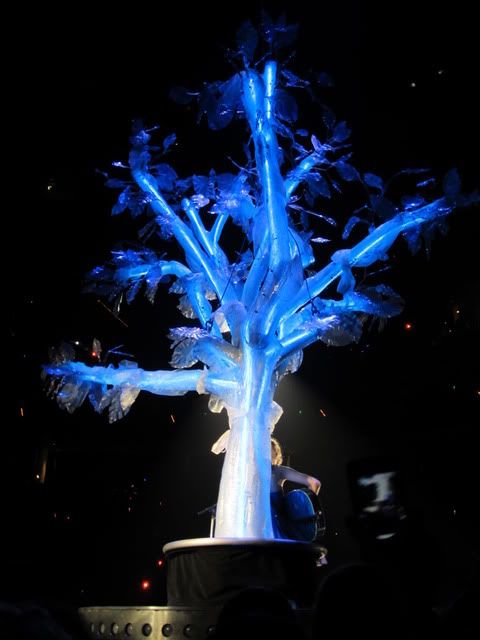 Speaking of curly hair and childish things....I went to the Taylor Swift concert on Tuesday! I am a huge Taylor Swift fan and my sister got tickets the Friday before the show. Despite the fact that my sister is 21, she was acting even more like a kid about it than I was! We made t-shirts with sparkly fabric markers and rhinestones, and she also made a poster and suggested that I wear my pink, light-up cowboy hat (a suggestion which I happily went along with).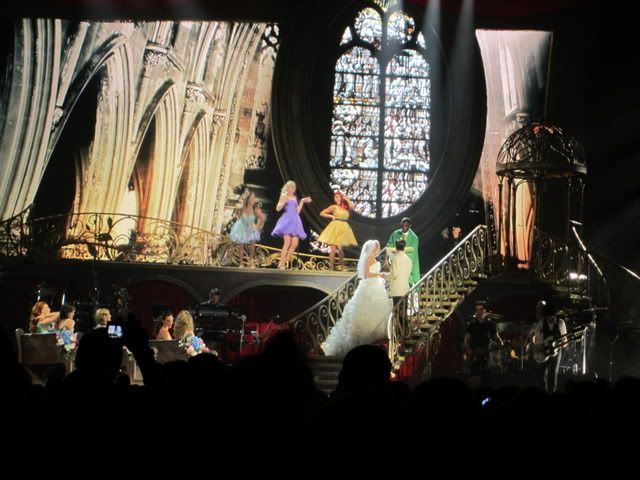 Taylor played a great show. She is absolutely the most darling little creature imaginable.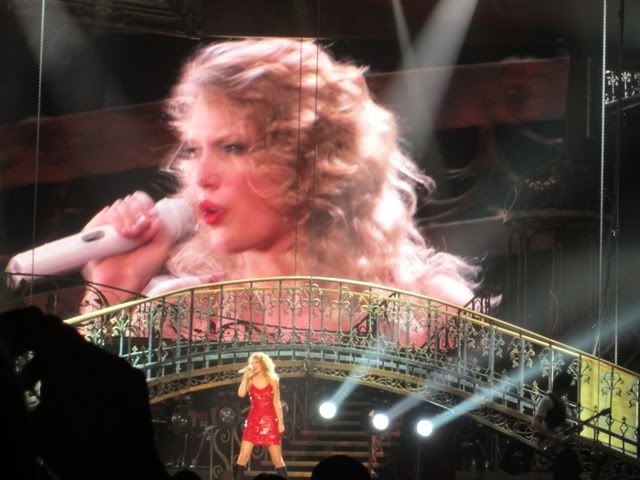 Her outfits were also absolutely incredible! This girl has such an wonderful sense of style. Plus she has gorgeous curls, a killer voice, and comes off as a well-rounded, hard-headed person. I could keep gushing about Taylor, but I'll just end it with this: she's a total knockout.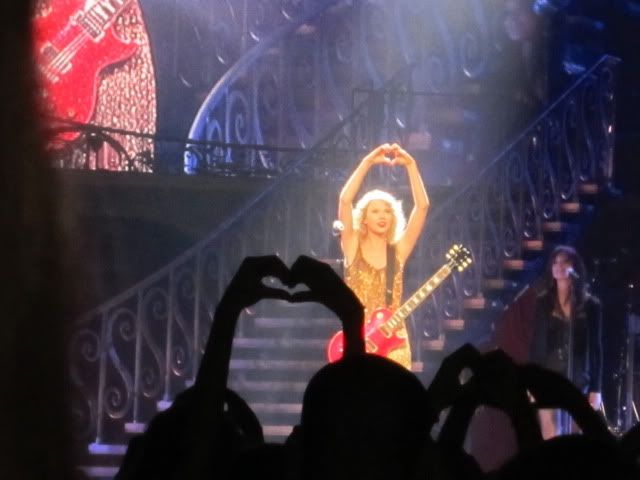 My favourite flapper-esque little dress of the night. Ok, now back to the outfit since this is, apparently a fashion blog, although a poor excuse for one at that.

My sister borrowed this cardigan a few weeks ago and finally got it back to me the other day. Even though I hadn't worn it in months, I had sudden cardigan withdrawl as soon as it left my closet. So when she placed it back in my hands, I put it on immediately. It's so wrong when it's June, but still chilly enough to wear a sweater!
I'm also wearing Steve Madden wedges, which are too wide for my feet. I need to find a solution for this problem, so that I can wear them more comfortably! Hmmm.....
Anyways, I'll finish this up so that you last few who stuck it out can get on with your lives. I have a busy week ahead of me, of grad parties, museums, art festivals, dinner with parents, and movie nights. I have only two more shifts to work until August, and my birthday is on the 22nd, followed by a slew of rushed farewells and packing for my trip on the 28th. I've begun a new game among my coworkers called "My birthday is on Wednesday, guess how old I'll be!" I look older in my work uniform, so I've been getting a lot of 23s...to which I burst into giggles like the immature 18 year old I actually will be.