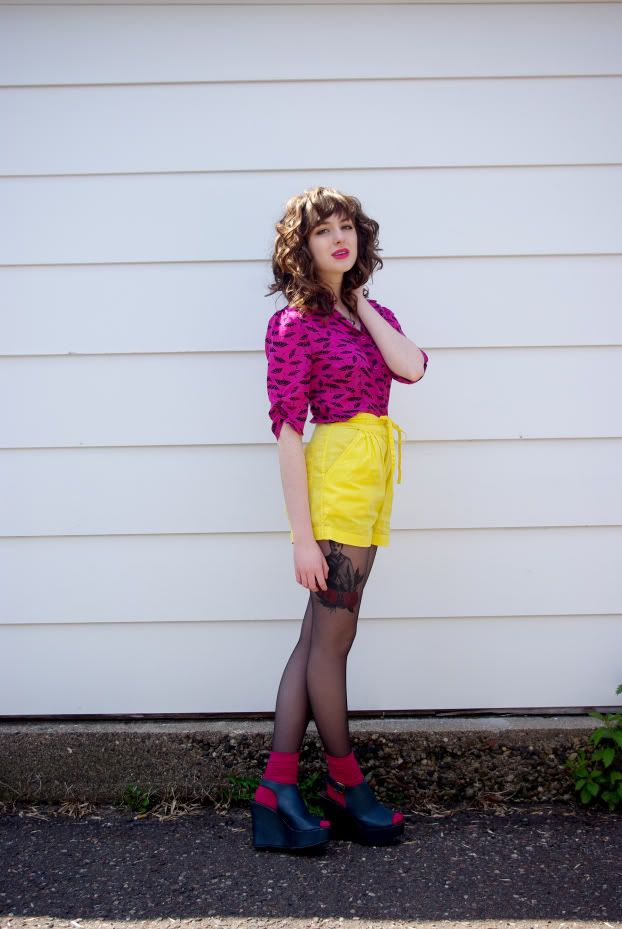 I guess that today is a good day for colour! I woke up, stuck in a rut as to what to wear, and started thinking about recent spreads in some fashion magazines that I'd ran across. One that leapt to mind was a Nylon editorial from a couple issues back. It was a lot of bright colours and tribal prints and in one of the photos the model was wearing yellow shorts. I've had these shorts for a few years now and rarely wear them. They're from a vintage store called Up Six and I'm pretty sure I only bought them because they were my size and at the time I had about 2 other pairs of shorts. But it's a struggle to wear them. Yellow just isn't my colour, especially against my white as snow skin. Furthermore, yellow is hard to pair with! The Nylon spread took a great approach to the yellow shorts and just threw in tons of colour with them.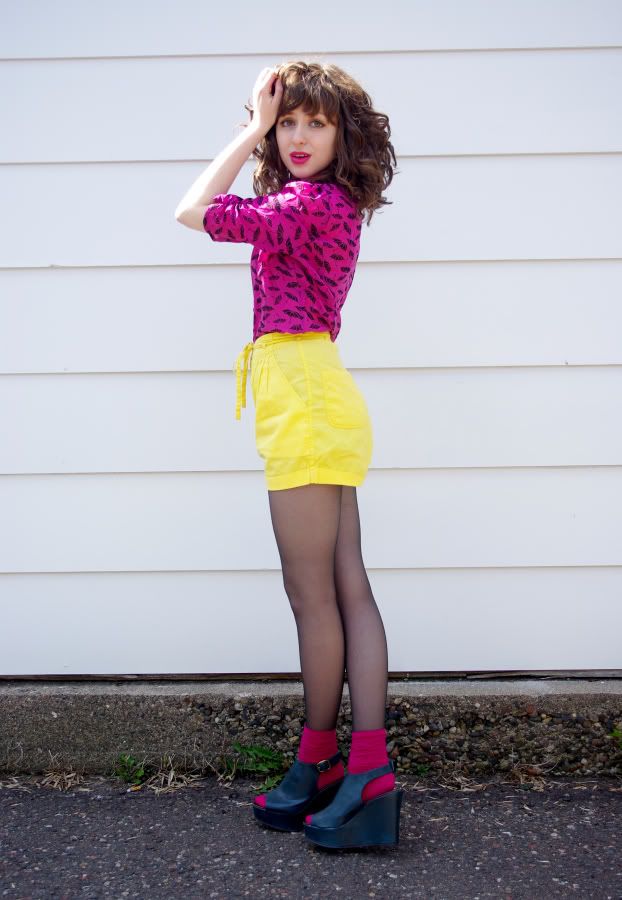 To deal with the whole "yellow doesn't look too sexy against my skin tone" dilemma, I threw on some stockings to mask my legs' blinding whiteness. And from there I decided to throw on colour. I bought this cute shirt from the Bettie Page Store in February. I'm a sucker for prints. Such a sucker that I will pay unreasonable amounts of dough to get my hands on a pretty print. I make sure that I wear this shirt enough to even out its high cost. Also, this is probably the highest quality garment I've ever bought from Bettie Page. I've found myself having to mend most of what I buy from there...or even bring it back in. I'm not even rough on my clothes, but, c'est la vie, etc. I think clothes are just not made as well these days.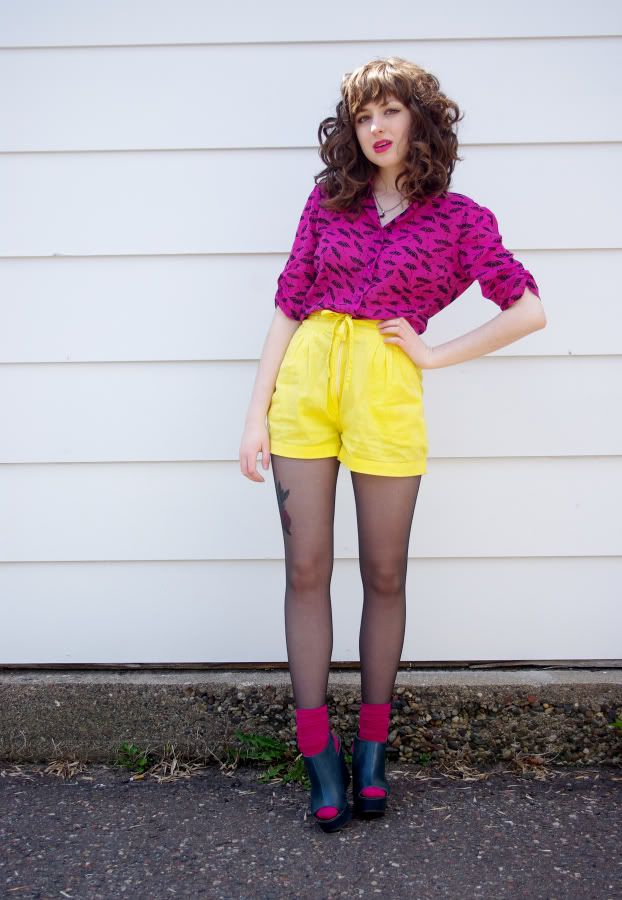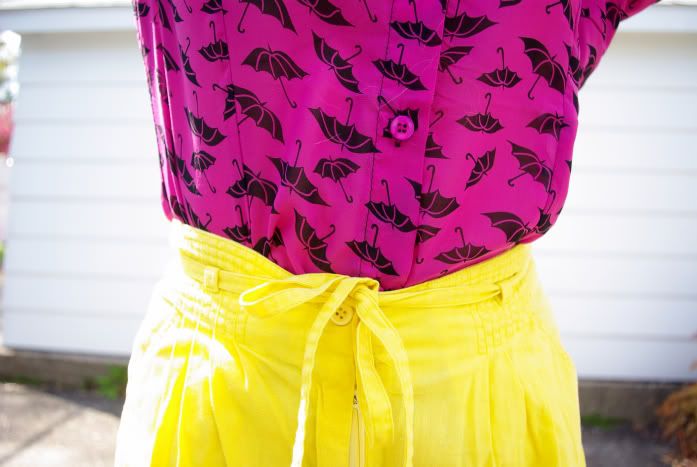 Something about this colour combo says "pink lemonade" to me.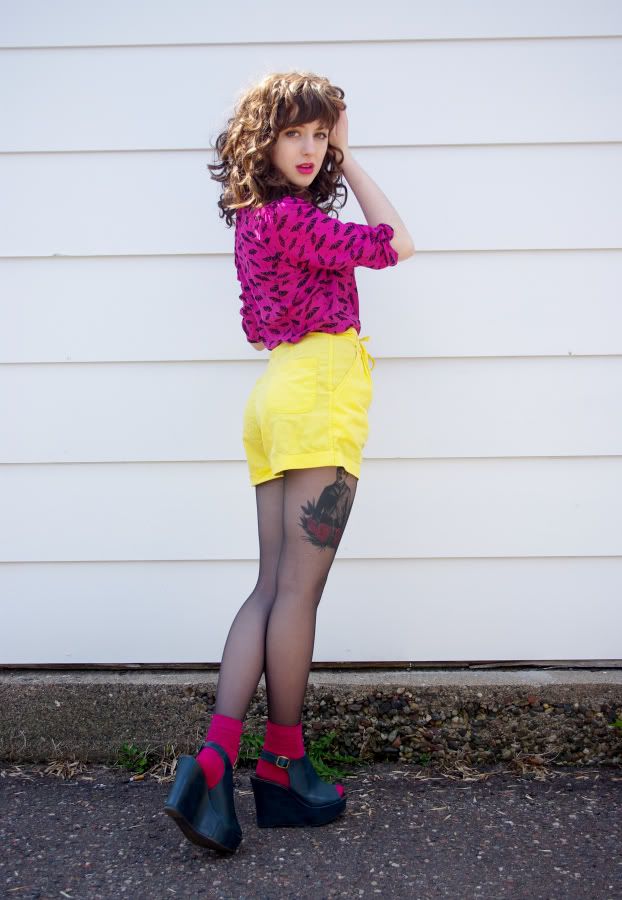 To play up the pink in every way possible, I even put on pink lipstick! This is a Lime Crime lipstick in Centrifuschia. I've been hearing a lot of bad things about Lime Crime makeup lately, which has me worried. I still love her photoshoots and style, but some of the things being revealed does make me concerned. I haven't had any trouble with the lipstick and it seems to be of high quality, but all the same....it worries me that I'm wasting my money. I'm thinking of switching to a new brand for my lipstick. Any suggestions?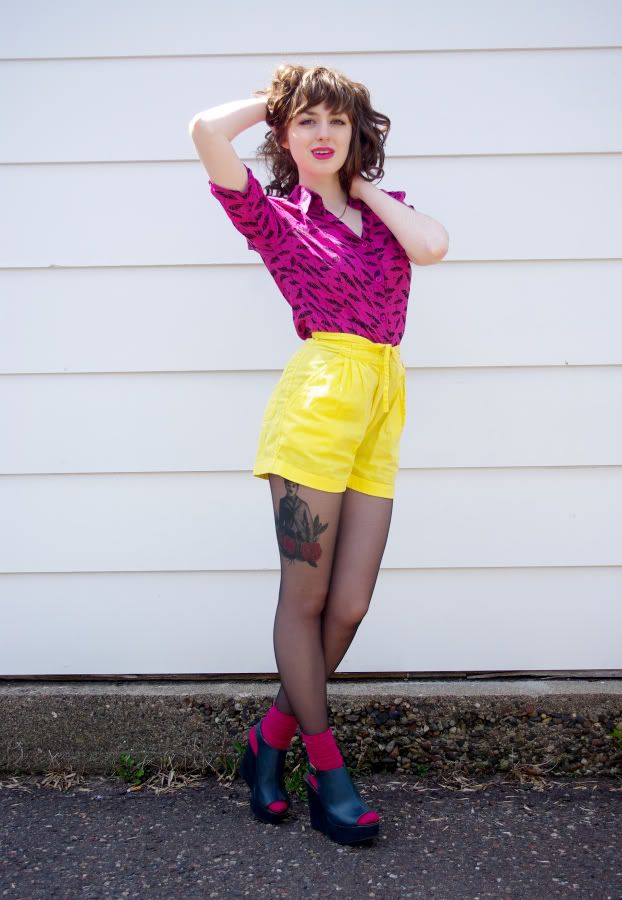 The last bit of pink pop was in these socks. I'm an avid sock collector (read: look for me on future episodes of Hoarders) and I love these solid coloured ones. Hot pink is one of the best colours! I paired it with these teal wedges from Madden Girl, to make the pink stand out even more. I think I've mentioned it before, but these wedges are amazing! Super easy to walk in (as long as you're on a hard, flat surface) and really attractive. Definitely a good buy and definitely something to incorporate into my wardrobe more often.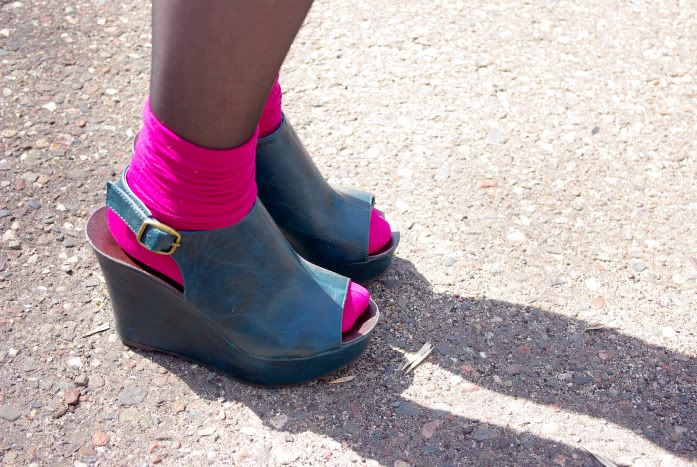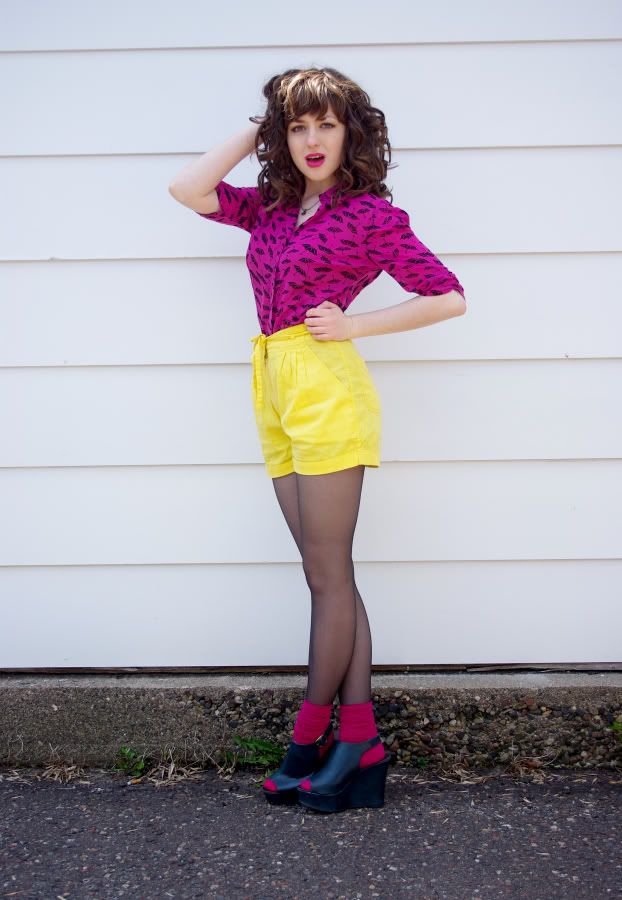 Classes end in less that two weeks (gah!) and I have a ton to get done in that time. But I also have some really exciting things to share on the blog and hopefully some great plans for summer. In the meantime, I must get going to write a paper! Toodles xx