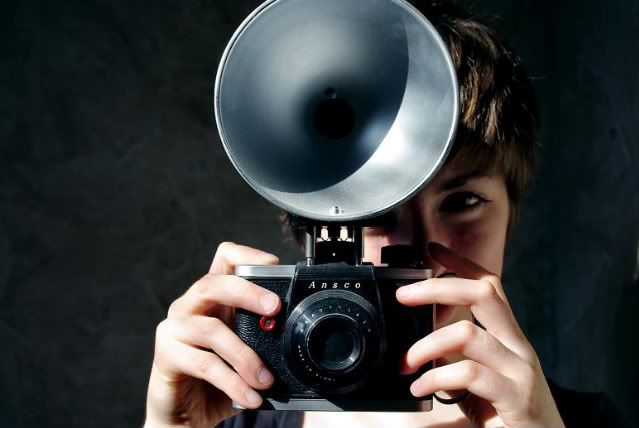 How tall are you & how much do you weigh?
I'm a shorty - only a bit over 5 feet tall! I've always wanted to be a model, ever since I was about 7 or 8, so that's one life-long dream that will never play out. I am roughly 90 pounds, give or take a few on certain days. I have good genes which allow me to eat mostly ice cream and junk food but remain slim.
What are your favourite shops to buy clothes in?
I buy most of my clothes from Urban Outfitters, H&M, Macy's (they've started to carry some really unique brands), Delia's, and Heritage 1981. I also like ModCloth & Fred Flare for unique items that not everyone is going to have by season's end. I thrift or go to vintage or second hand shops frequently, too. You can find some really great items that way.
What type of camera do you use?
I use a Pentax K200D, a really nice DSLR. I swear by Pentax, they've been around forever and create high quality cameras and equipment.
What's your favourite music to listen to when you want to zone out?
Lately I've been a bit of a Simon & Garfunkel junkie. I also listen to a lot of Cat Stevens when just cooling off and thinking. Other favourites are Something Coporate, David Bowie, Gregory Lemarchal, & George Harrison. I listen to these guys when going to sleep, doing homework, writing, etc.
What are your views on America having a public health service, similar to the NHS?
I think that health care should be available to everyone, and thus I am for universal health care. However, I'm not entirely convinced that Obama is going about it in the best ways. It's a tricky issue for America right now, there are still a lot of revisions to be made before Americans will have universal healthcare. Hopefully one day it will be more than a privilege.
What's your favourite brand?
BB Dakota is one of my favourites. I also love Cheap Monday for jeans. Sretsis is really cute, but I don't own anything by that brand. American Apparel is always very innovative, so I dig their stuff. For shoes, Doc Martens & Steve Madden are both great (& affordable!). Other brands I really like include Stolen Girlfriends Club, Soundgirl, Happy Socks (socks are totally underrated).
How much money do you spend on clothes a month?
Too much. Depending on the month I can spend anywhere from $5 (sad month for clothes) to $100. Lately I've not been spending much, as the U.S. is in a recession and I've been broke.
Do you play any musical instruments?
Nope, unfortunately I don't. I used to play the recorder & the violin. I wish I kept up with the violin. I've always wanted to play guitar, but my parents wouldn't ever let me learn. I also always wanted to play piano. We've never owned a piano however, so I couldn't learn. I love rag time though...I have my friends play for me instead.