Since September 1st signals the beginning of autumn for me, I thought it was time to begin with inspiration for fall looks.
The loose jeans look is really refreshing after years of skinnys (still love those skinny jeans, though). Also, I've been on a mad search for a cape/shawl type thing like her's.
Well Guntars makes me faint either way, but this look is divine. I love the arm warmers.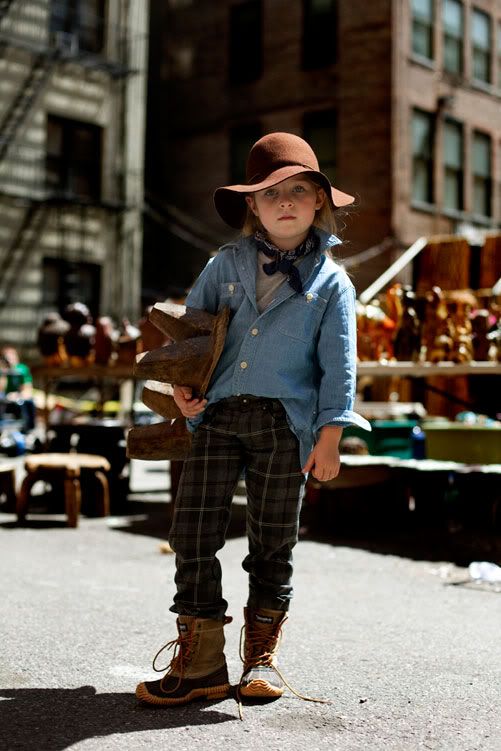 Does this even need explanation? Haphazardly tucked in denim shirt, plaid pants, work boots.
I have these jeans and I, and probably everyone else who struggles to match things with acid wash, should be plently happy to see that red can be matched without looking too gawdy.
Okay, I guess I just thought that Cheap Monday was amazing for their F/W 09 collection. His jeans are amazing!


Emma Watson for Teen Vogue, so sweet. And I never say no to blazers, especially in a deep red.
The shoulder structure!!! Not digging the skirt, but the jacket and the tie are great.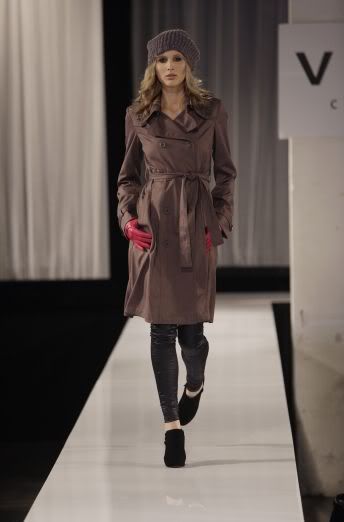 I'm kind of anti-leggings, but I love the trench & the pink gloves.
The blazer is great and those pants are fantastic!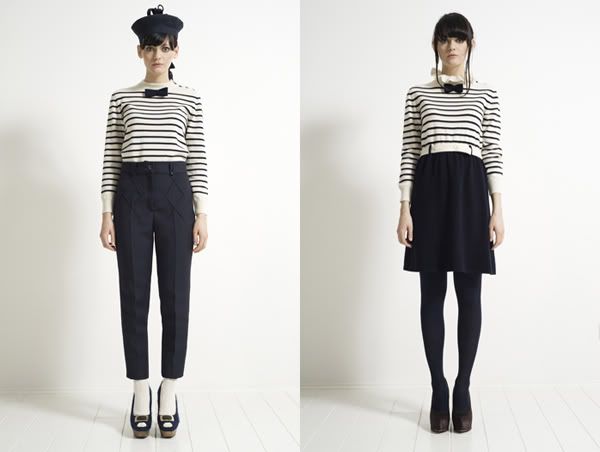 I love sailor inpsired looks. They make me want to go sailing (not that I ever have). The cropped pants are really great.


That dress with the blue shoes is perfect. The proportions on the other outfit are interesting.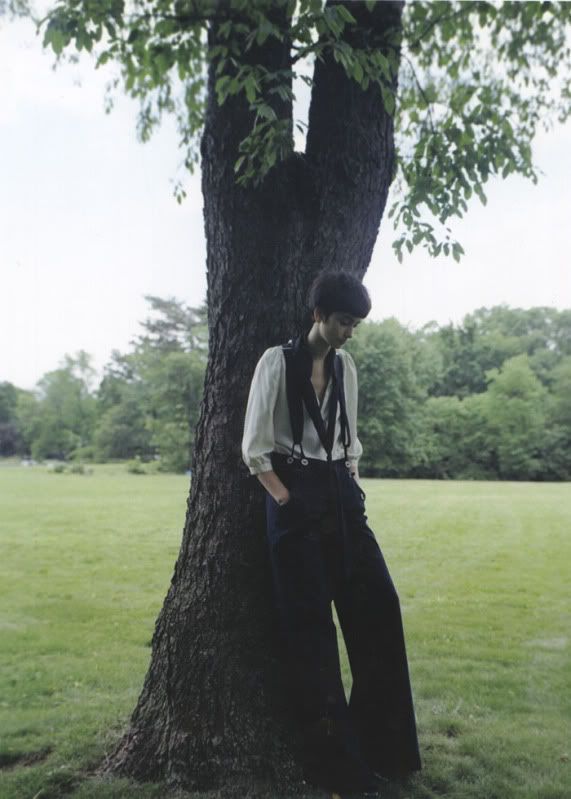 I've always really dug super wide legs pants like that, also very sailor-y. Unfortunately there's no hope for me for pulling them off. Too short. But they look great with the suspenders.
Hmm, well I recently went job-hunting. Am expecting a call back from at least Delia's. Hopefully Urban Outfitters & American Apparel as well. AA took my photo & my resume, the girl complimented me on my style. I had to go back twice though, because the first day the camera wouldn't work & the guy told me to wear "classier shoes" (he said this while wearing moccasins with socks). But I suppose dirty old converse aren't really all that classy. I also got a job application from H&M. The guy behind the desk said, "Well you have to be at least 18 and available to work every weekend." But he was giving me this, 'I know you're not 18, I bet you're not even 16' kind of look, so I simply couldn't give him the satisfaction & I took the application. It's still sitting in my bag. Today I was offered a job by one of the guys at a kiosk. He told me they needed a "chair mover" which was basically his way of telling me I looked pretty...or sexy...I don't read kiosk workers' minds (luckily).
Anyway, I've got some great questions for the Q&A post (which will be my next!). If you have any additional ones, leave them in the comments. You can leave them annonymously if you need to. Also, I keep forgetting to leave this link after every post - I've still been adding to my story. Check it out if you can, I'd really appreciate it. (I'll answer any questions about the story in my Q&A, too).
Soren Story