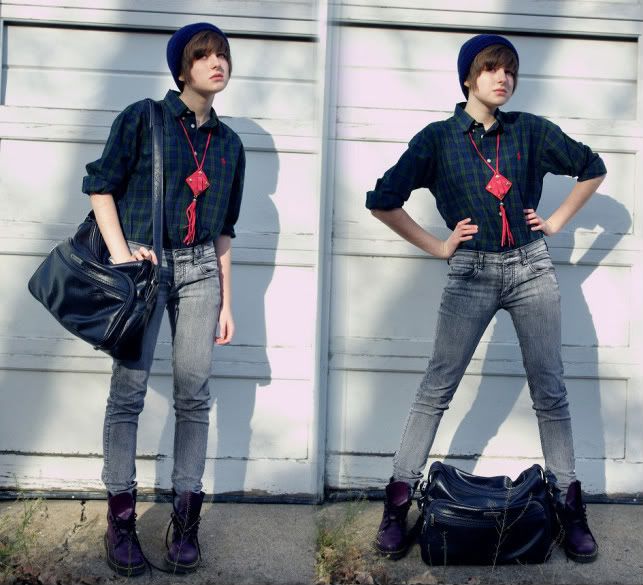 To continue with my attempt to induce an '80s redux, I bought that necklace out of the sale section of Modcloth (
herrreee
). I also bought it in white (and I wish I got it in purple, too)! It reminds me of Sloane's jacket in
Ferris Bueller
. The white leather one with fringe and big shoulders. Ah, the '80s. I'm basically collecting any bit of thing from that decade, so if you have something you don't want, send it to me!
I bought that shirt from a sale the second hand shop in the village was having last weekend. It's a bit big (as it's little boy's L 14/16), but oversized is never bad. And I whipped my purple Docs back out from the depths of my shoe closet. Poor things have been neglected ever since I purchased them. I wanted to keep up with the colour theme, so I used my dark blue shiny shoulder bag which I got from some vintage extravaganza (aka a shop called Sophie Joe's) some many weeks ago. It's really big and cool. I bought it to use as a camera bag, but my attempt to add padding in it failed....of course.
I think this outfit (I'm wearing the first one today, this one was from a few days ago) also has a bit of '80s influence to it, too. I bought those pants many moons ago and never wear them (even though they're flannel and heaven on the inside) because I'm not crazy about the fit. Also, they have fake pockets, which I view as the downfall of humanity (fake pockets). I bought the blue button down and the blazer at the second hand shop's crazy sale. I think that blazer is my new favourite (sorry red tartan blazer...). It's got absolutely no structure and just flops about, but then you put it on and it's amazing! And only $11, too. However....FAKE POCKETS. Why?!?! And as winter moves in (the sun sets at 4pm, what?), I've begun stocking up on winter goods. I purchased those mitten-things from Urban Outfitters. $5. I love sales.
As you can see, I've been in a bit of a blue mood lately. I mean, as in the colour and how it relates to what I wear. Not as in, mentally I've been blue da ba dee da ba die. It's just been so cold and wet and dark out lately. Oh, winter.
I went to the aquarium yesterday! The one in the Mall of America, "Underwater World." It was amazing. You walk through this tunnel of glass with sharks, fish, turtles, and stingrays swimming above your head and to every side of you. Unfortunately I went right after school and didn't have my camera. Well, I have a photo of a starfish on my cell. I named it Fred Astaire because it looked to be dancing. At the end, you get to touch a bunch of the creatures (starfish, sea anemonies, crabs, etc.) They took away the stingrays to pet, but it was still great fun. We (my friend Jacob & I) talked to this bloke named Kelly who was far too obsessed with sea creatures, but he was real nice and I like guys named Kelly.
Well, I should go find something to do now. I took a 7 hour nap last night, woke up at 3am. Nothing to do. Went back to sleep for 4 hours. Basically got 11 hours of sleep last night, am wide awake. Time to go party.