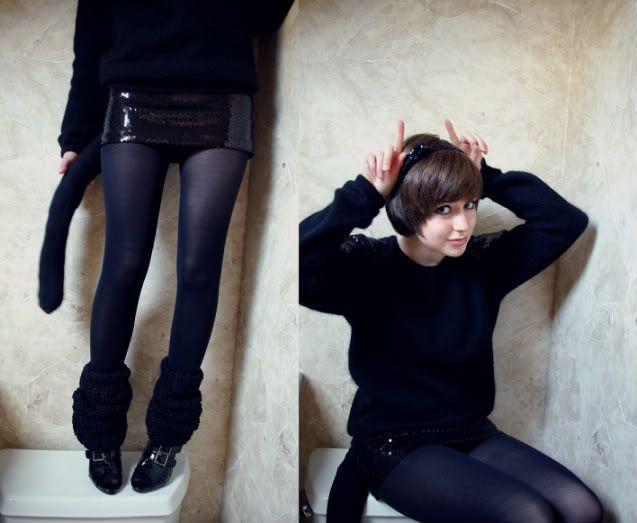 Meeeooow, I hope everyone had a positively
smashing
Halloween night, filled with tricks and treats. I finally decided on being a cat, and it was a blast. I went with a sequin theme and spent loads of money on new clothes (bad kitty). I hung out with some friends in a creepy suburban home, watching
The Uninvited
and
Halloween
, and cramming my kitty mouth with cupcakes and other treats. What did you ghoulies and ghosties dress up as for Halloween?
And now, we're into November! Welcome, my dear friend. November is a great month, because you have the day after Thanksgiving, which is when all the Christmas stuff comes out. The decorations, the movies (
It's a Wonderful Life, Eloise, A Christmas Story, Elf,
ooooh I cannot wait!), the cookies, the cards, the music (not that I haven't been listening to it already). Christmas is the absolutely most wonderful time of the year. I've never bothered with any of the after Thanksgiving day sales, though. I don't know why, maybe I should, but I'd rather stick around at home watching the snow, listening to my *N Sync Christmas album.
I don't have much else to say. I'm so anxious for Christmas that I can barely keep it in, but I don't want to bog you readers down with my over-excited writing about the holiday season.
p.s Lookbook.nu is not working. My life feels incomplete. Work, LB! I love yooouuu!!