First off, even though internet arguments are a silly waste of time, I would like to thank Taylor for his/her lovely comment on my previous post. Yes, I know I wear acid wash & flannel a lot. I also know that it's disgusting that I wear the same clothes over & over again! You complained that I always wear jeans. Hello, I live in Minnesota and it is winter! Sorry, but I'd rather be warm than freeze to death walking across campus in a skirt, thanks. In defense of my beloved boots, I wear a size 4US shoe, so it's extremely difficult to find stylish shoes in my size. Boots are easy to find however, so I usually wear those or tennis shoes. However, I'm quite pleased that even if you find my sense of style absolutely appalling, that you still like my runway & Clara Bow posts....I think the following one may please you as well, as I'm not wearing flannel. Or acid wash. Or even boots!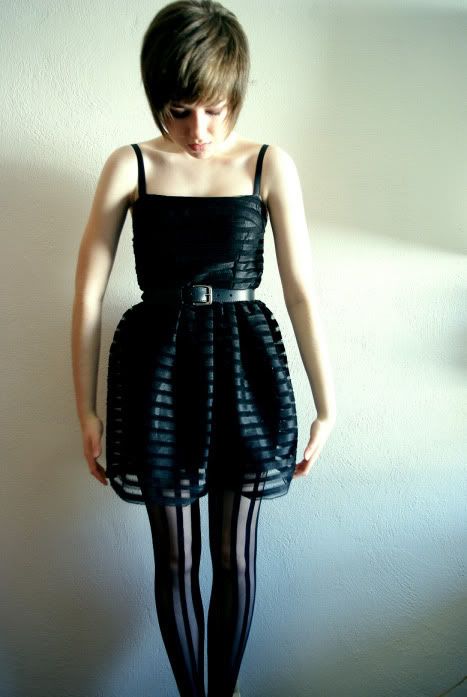 H&M was/is having a massive sale so I got this dress (along with one other & a skirt...and some legwarmers...and shorts). I don't really have many occasions which to wear fancy dresses to, but my friend's birthday party seemed like an appropriate occasion. The dress wasn't completely form fitting, so to emphasize my middle, I strapped a black belt around the little of my waist.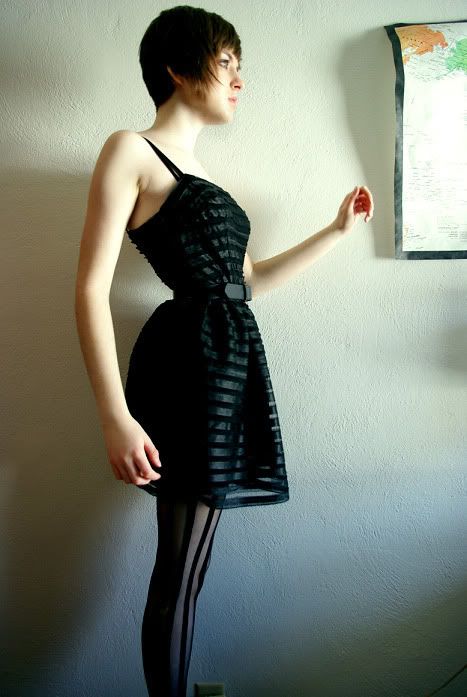 (I apologize for the ultra fake model-y look of this photo. I was just trying to move my arms so they weren't covering the dress.)
I bought those striped tights from Modcloth sometime last year, before they were the "trendy" thing to wear. I thought that the tulle-ish horizontal stripes of the dress would juxtapose nicely with the vertical stripes of the tights. Of course, the tights got a couple runs in them right away, so my mum suggested I coat them with clear nail polish to keep them from running any further. Do you guys do this? Well you should, because it works.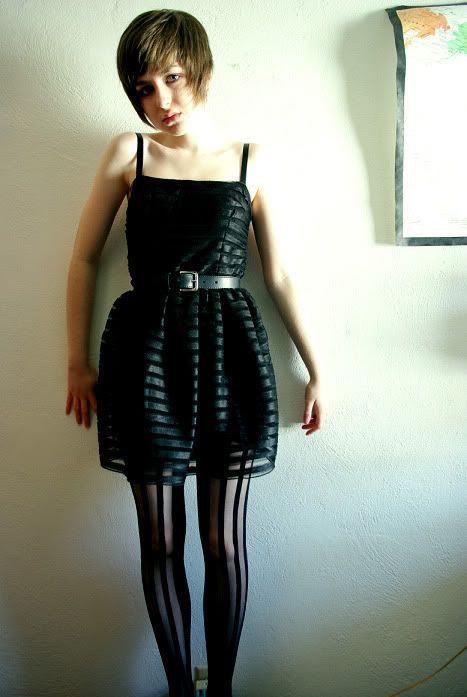 I love wearing dresses, it's so fun and flirty (but cold in the winter!!). I played some awesome games of ping pong and danced to bad music (uhm, Cascada, anyone?) with my friends at the party. The dress really added to the effect. Even though it is just a casual party, dressing up is still a lot of fun, and it's always better to be overdressed than underdressed. (;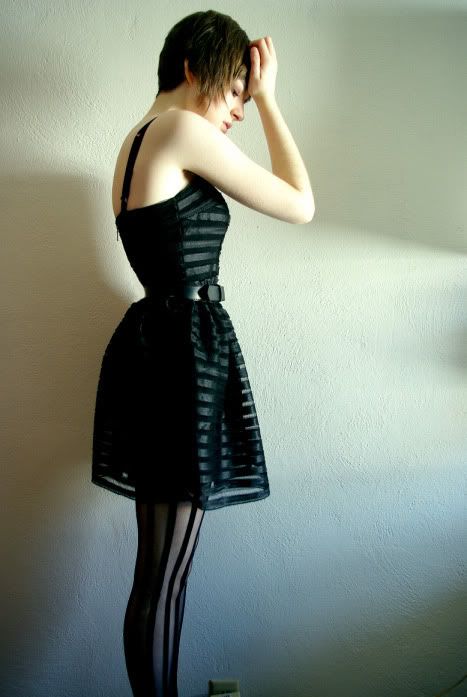 This week has been hectic! I had Czech lessons on Monday (to those wondering - no, I'm not Czech. I'm just learning the language. I've been involved with the Czech/Slovak Minnesotan community for many many years now, however). I then had first day of semester on Tuesday, followed by work orientation. Today I had class, then sewing. Tomorrow I have class then more work training, and the same for Friday! Plus homework on top of all of that. I'm so exhausted, so I'm going to go to bed now. Good night everyone! (: