I didn't think I'd do another post before Tuesday, but here I am! I managed to nip outside yesterday and take a handful of photos of what I was wearing. I'm actually surprised any of them turned out, I was crunched for time and just took a few then ran (to the library!). Oh, I also wore this to the mall a couple days ago (er, yes, I re-wear outfits when I'm getting REALLY LAZY). Speaking of lazy, I've just thrown my flannel shirt in the wash this morning for the first time in weeks, oh and those jeans, too. I'm also wearing suspenders and some cheap boots from DSW which I think make my feet look HUGE, oh aaannnddd.....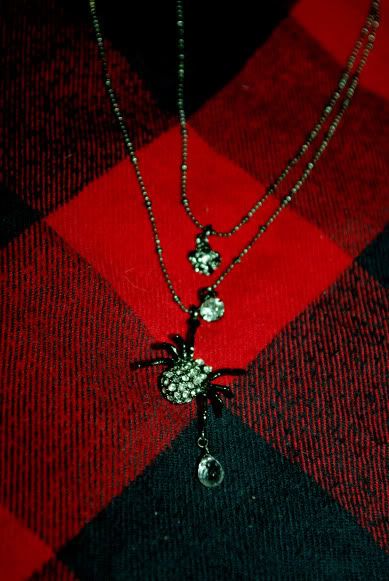 I was at Macy's (remind me to write about how much I LOVE THIS STORE sometime, kay?) and ran across this amazing Betsey Johnson spider necklace. I love Betsey Johnson. Her mix of funky & classy is awe-inspiring, and she fits my sense of style perfectly. Anyways, I've been looking for some good jewelry and this captured me immediately so I just had to buy it even though I'm completely skint.
I wish I had a photo of my socks. They're pretty cool - fuzzy, striped, red/orange/pink socks. My special man friend (who is actually just my boyfriend, but special man friend has much more intrigue to it) bought them for me after he realized that the quickest way to my heart is through a pair of socks.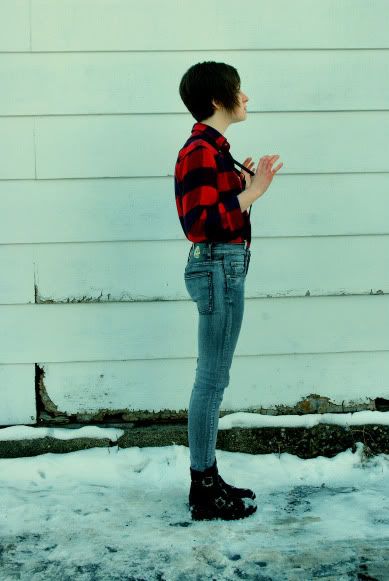 Anyways, I sense that I'm being really annoying today with my caps lock and "hmm kay?!"-ing so I'll leave it at this before I turn away everyone. I'll just throw in that I joined
Chictopia
, which is pretty cool but also pretty confusing. And I'll also leave you with my blogging to do list. Here are some things I will be posting about in the next couple of weeks: work, recently purchased items, my wishlist, jewelry. If there's anything you'd like me to blog about then you may email me & let me know. My email is on the sidebar. I've recieved some lovely mail from readers, thanks guys! :)