I've been getting extremely lazy as of recent - it's the marking of too much time off from school. I wear the same shirts day & night for weeks in a row. I'm pretty sure I've gone 2 weeks without washing this flannel, wearing it both during the day & to bed (but er, isn't that the point of flannel?). I wear this sweatshirt all the time, as well. And those Cheap Monday jeans I will wear for 4 or 5 days straight without washing. It's gross, but I shower daily so I still have a bit of dignity.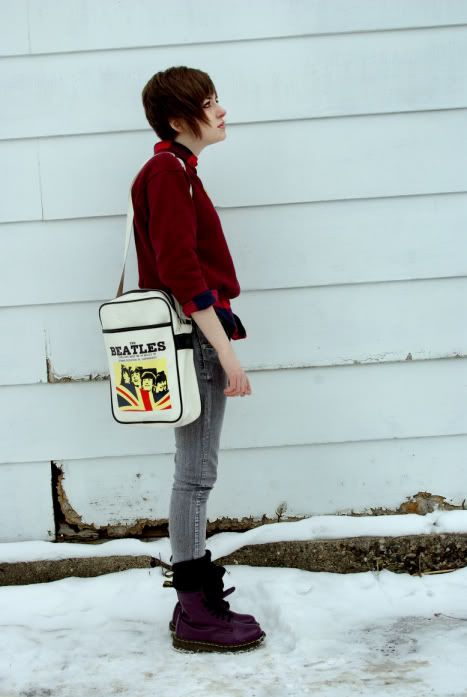 Speaking of all these articles of clothing - here is my lazy day outfit. I got that sweatshirt around the age of 4 from this crazy store in Duluth, MN called Monkey Business, which exclusively sells monkey merchandise. It's super cool & if you're ever up that way, check it out (and all of downtown Duluth, which is possibly my favourite part of Minnesota)! My sweatshirt has the "see no evil, speak no evil, hear no evil" (or in some order like that) monkeys on it. Uhm yeah, it was way too big for me when I was 4. And since I promised these Docs that I'd wear them more often, I try to wear them a couple of times a week. They still need some breaking it, so I wear them with legwarmers to protect my feetsies from blisters. It was 28°F out today, which is pretty warm this time of year, so I'm not wearing a coat. I did however throw a coat on after taking these photos....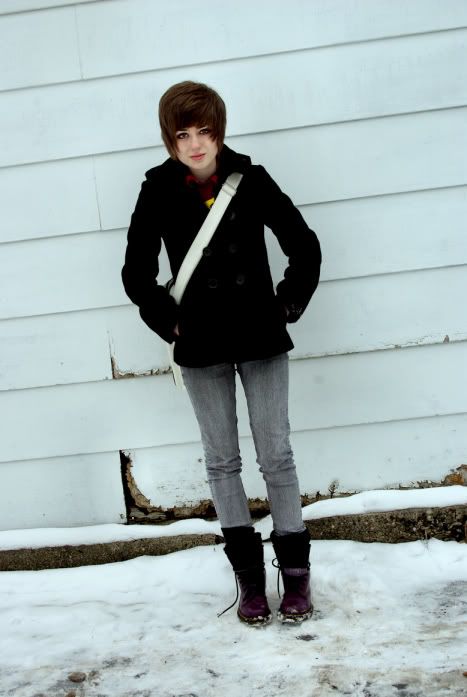 The Beatles bag (seen better below) is from my sister. She bought it for me off eBay a few years ago when she was going through an eBay craze (she also bought a number of shirts and trucker hats, and sold a bunch of my CDs - I still miss that Justin Timberlake one!). I love this bag. I get so so so many compliments on it and it's the perfect size & shape! The other day I was in the bookstore with it strapped around my shoulder and some bloke pops up from nowhere and says with a really thick accent, "I like your bag." I wasn't prepared for a short little mustached man to approach me, so I say, "Sorry?" And he says, "I like your bag. The Beatles. I'm from Liverpool." And instead of asking him, "Well what the heck are you doing in dingey Minnesota then!?!?!" I just smiled and said thanks, then walked away. What?! I'm so slow when I'm thrown off guard.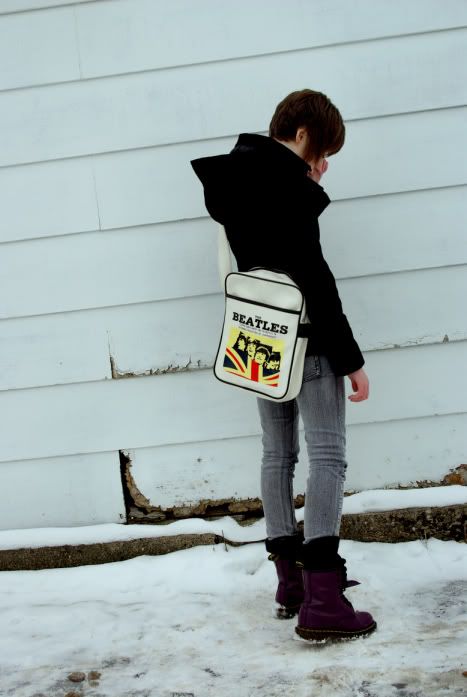 I got a haircut yesterday, for the new semester! I really like it, it's nice not to have all that hair as I did. Also, my hair had been getting too helmet-y. So now I can start the new semester with a fresh haircut. Semester starts on Tuesday. I also start my new job on Tuesday. I'll fill you in about that soon. ;)