I wore this outfit this weekend when I went a few hours up north for my Great Uncle Basil's 85th Birthday! It's such a blessing everytime I get to see him and his wife, Astrid. They live in the most beautiful little stone house tucked away in a tiny town of 400-some people. Their backyard has a pond & beaver dam and they own several acres of sprawling Minnesota forest. The weather was a bit chilly, so I dressed for autumn! I drew some inspiration from my father circa late '70s, early '80s. I was going through some photos the other day and the autumnal flannel was really getting to me. Add to that, my father is a bell bottoms aficionado.


Ah, the puffy vest on top of flannel. Typical Minnesota classic!

"Nice ride, pops!"


Some pretty cool polaroid for all your hipsters...I know you eat that shit up.
My father is addicted to these fleece headbands so that he won't disrupt the volumious state of his hair.



My dad: the original hipster. Complete with the flannel, worn out jeans, oversized glasses, ironic facial hair, and film camera!

I'm still trying to decide whether or not to keep these jeans. I just bought them the other day, since I recently gave away all my jeans since I couldn't get a single pair over my butt. My father (we should just refer to him as The Bell Bottoms Master, as he did wear them to his wedding) is convinced that they're slightly too long for me. Perhaps some hemming will be in order, as I do like the rise and wash quite a lot, and they were only $20. Bells remind me of Jamie Lee Curtis in the original Halloween, 1987.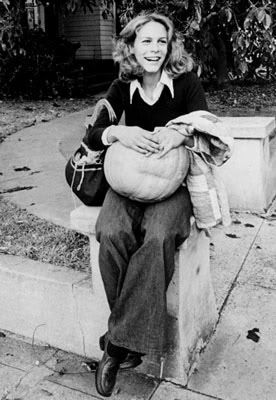 Somehow this is the only full-body shot I could find of her, but you get the picture. I'm such a dork for this movie, it's easily one of my favourites & I love the fashion in it! When I was around 8 or 9 my sister told me that Jamie Lee Curtis was born both man & woman. As a young, impressionable girl, I believed her and to this day, can not get that out of my head!
I'm horribly behind on all my homework at the moment. On Sunday I did most of my Tuesday-class homework, only to realise (around 11:30pm) that the next day was Monday & I should've been doing homework for those classes! Then yesterday I came down with the most horrible migraine to the point that I was so nauseous that I went to bed immediately upon getting home from classes & ended up sleeping for 13 hours. So you can imagine, no homework was done last night! Let's see how tonight comes along....!