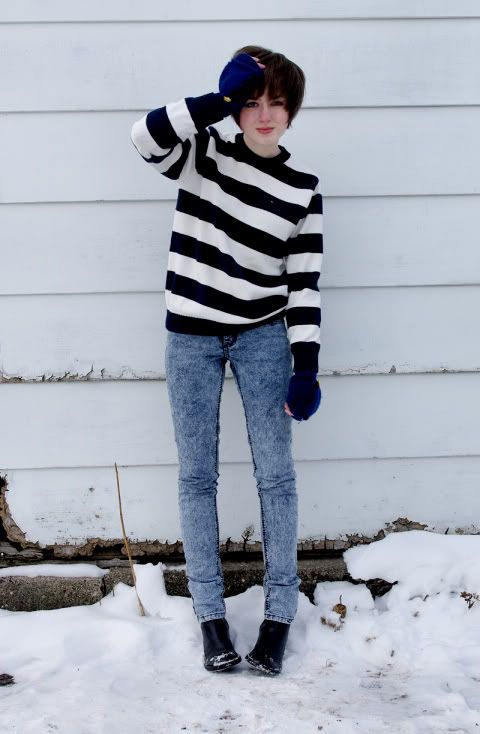 It was 24°F out today! I didn't have to wear two coats outside, three layers of sweater or even a pair of tights under my jeans! It was so warm out, thank you Minnesota!
I bought this Tommy Hilfiger sweater a couple of weeks ago at Macy's (I shop there a lot. A lot a lot a lot). It was in the little boy's section and on sale for 50% off. I grabbed both a large & a medium and then asked an employee where the dressing rooms were. She paused, eyed me over with confusion, and then pointed me over to the boys' dressing rooms, opposite from the girls'! Haha! Oh, to be androgynous!
Sorry I look like a bitch in this photo. Or a hedgehog. It just showed off my (very snowy) wedge booties better. I'm also holding my Pentax KX, as I have three rolls of film to shoot before tomorrow. I'm half way done with one, oops. My photo portfolio is due noon on Saturday, my unstarted US History capstone essay is due Saturday at 5pm, and I have my French final tomorrow at 6:30pm. And then I'm finally done with my first semester at uni! Oh, I'm rather excited.
In my last bit of news, I wrapped books at Barnes & Noble last week and, since I'm rather awful at wrapping, I recycled old bits of wrapping paper and made bows! And a bow headband for myself & my friend! Ta-da! Festive, isn't it? (Sorry my skin is all red & blotchy. The winter wind has made my skin so raw! Thank goodness for Cetaphil lotion...)
I'll be done for today, as I have to finish two rolls of film, study for my French final, and begin my paper. Ohhhh, and maybe squeeze in a Christmas movie? Only 8 days left!