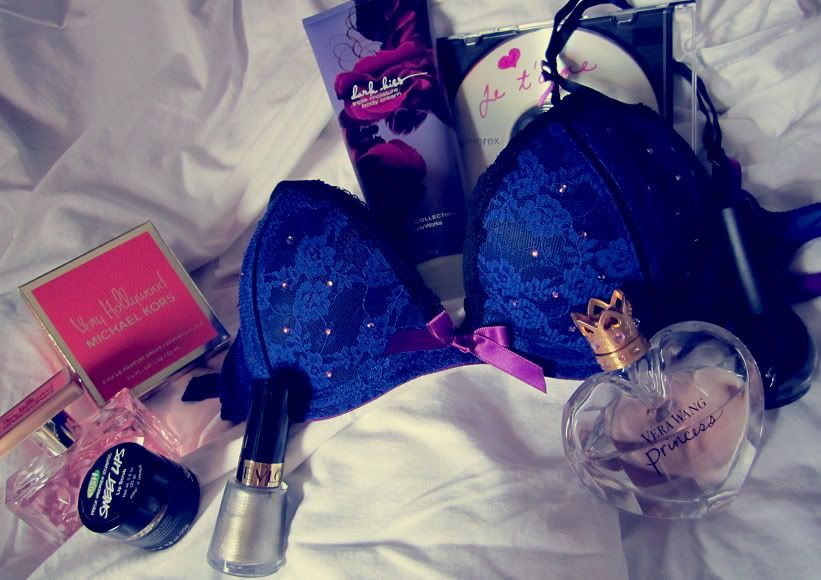 Very Hollywood by Michael Kors / Sweet Lips sugar scrub by Lush / Revlon nail polish in Silver Screen / bra from Victoria's Secret / Dark Kiss body lotion from Bath & Body Works / mixed CD from my friend / Princess by Vera Wang / Nicole by OPI in Show You Care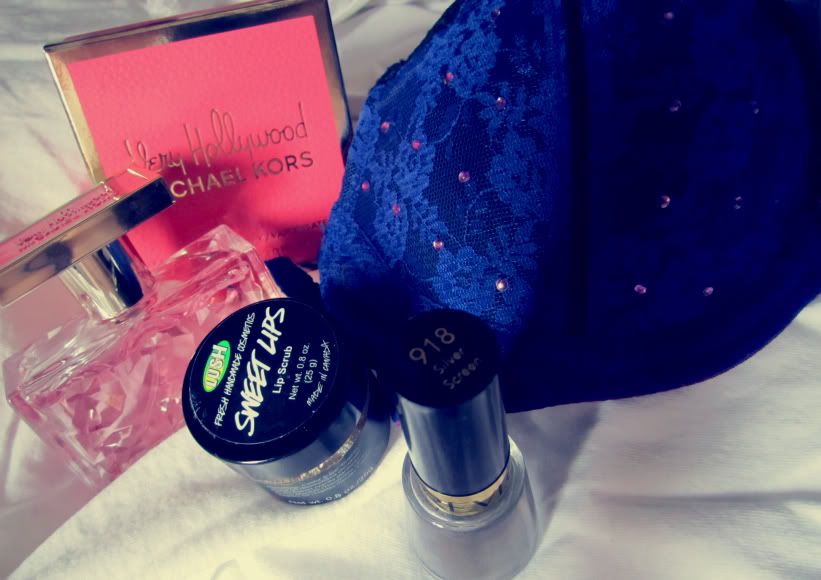 I love good smelling stuff, & I recently got this Michael Kors perfume from my sister. The bottle & packaging is so pretty.
I love Lush's sugar lip scrubs! It tastes so good & is great for chapped winter lips.
I'm also obsessed with silver nail polish right now. It's perfect for winter (which is never ending in Minnesota).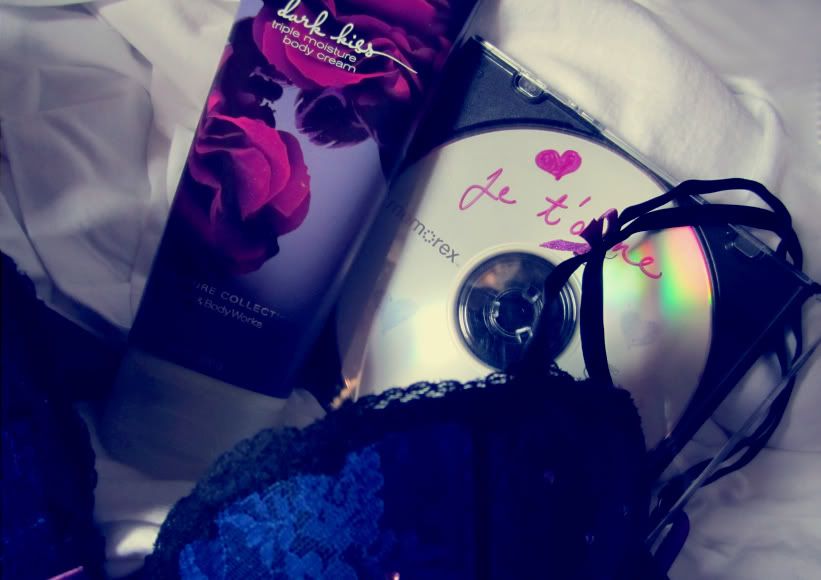 The Dark Kiss collection from Bath & Body Works is so brilliant. I recieved the set for Christmas from my boyfriend. It's a very sexy scent of berries and vanilla and musk.
My best friend Rachael made me a mixed CD, which is so lovely. Chris Fox, who I also love, made me a couple of compilations recently, too. Thanks to him I'm now listening to the same 4 or 5 songs on repeat.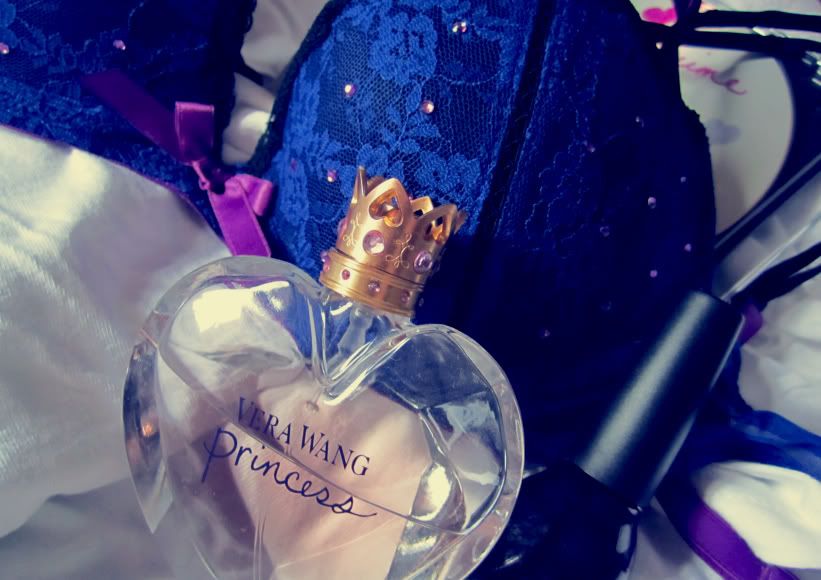 Victoria's Secret was having their semi-annual sale so I got this beautiful purple, pink, & blue lace bra. I love very dark, girly colours. And lace. And rhinestones.
In addition to all the yummy smelling stuff I already featured above, Vera Wang Princess is my absolute favourite scent. I love vanilla everything, & the original ads featuring Camilla Belle are so pretty.
The dark purple nail polish is a colour called "Show You Care" which is so gothic and sexy. A very old man who I helped at work the other day asked "Is your nail polish black or purple?" And when I told him it was sort of both, he called it "cool" and then gave me knucks before leaving on his way. Keep in mind, he was probably about 90 years old.



Bûche De Noël by Lush / The Brothers Grimm / When Harry Met Sally / Pin Up 2011 Day Book / coin purse from Brazil / Charity Pot lotion from Lush / Pond's face cream / hair pins from H&M and Goody / R&B by Lush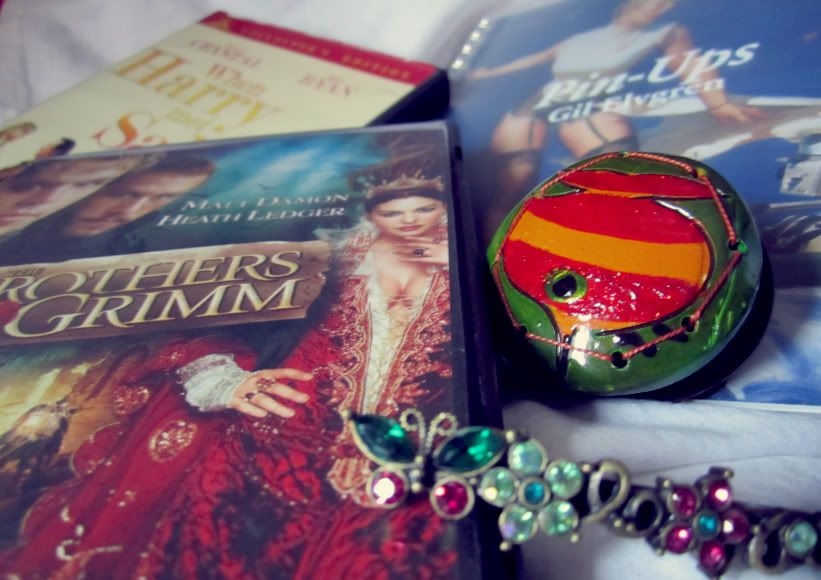 If you haven't seen "The Brothers Grimm" yet (it came out in 2005 -__-) then please do! It's so wonderful, an extremely creative, enchanting movie with handsome men, witty comments, and a great story to it. "When Harry Met Sally" is also another current favourite of mine. It has wonderful quotes & the dialogue between the characters is so relateable.
My 2011 day planner is full of pin up girls! I love pin ups, they're so sexy and cute. Maybe it's a little weird that I like them so much, but I don't mind that people know. I don't believe in hiding parts of your personality from people, & my interest in lingerie, pin ups, etc. is therefore nothing to hide.
The little coin purse was brought back from Brazil for me from a friend who backpacked South America for half a year. It's so cute & painted on a coconut shell.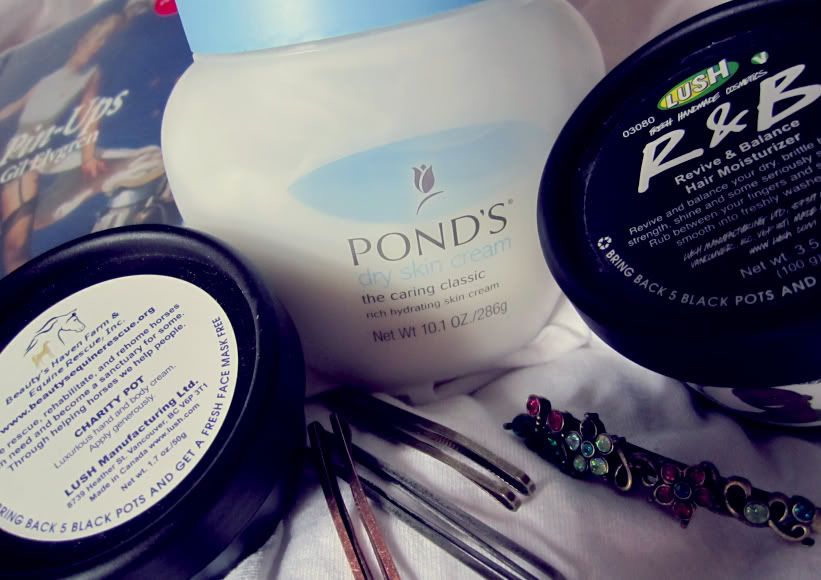 During harsh winter months, skin & hair needs a bit of TLC! I love Lush's Charity Pot lotion because proceeds go to charity. They had a special limited edition mini-pot in which you could choose where the full $5 was sent to. I chose Beauty's Haven Farm & Equine Rescue because I hold animals so very close to my heart & am flat out against animal abuse. It disgusts me. Charities like this one give sanctuary & love to animals who haven't been able to feel that before.
Pond's makes my favourite face cream. Very gentle and basic with no smell. I lather it on every night after the shower, before I tuck into bed.
For my hair, I love Lush's R&B. It smells like a tropical cocktail and moisturizes dried out locks like no other. Good bye static! I'm also pinning my hair up a lot. It's now long enough to pull back into a ponytail, but I still need to pin a lot of the shorter sections back. I can't wait for long hair again!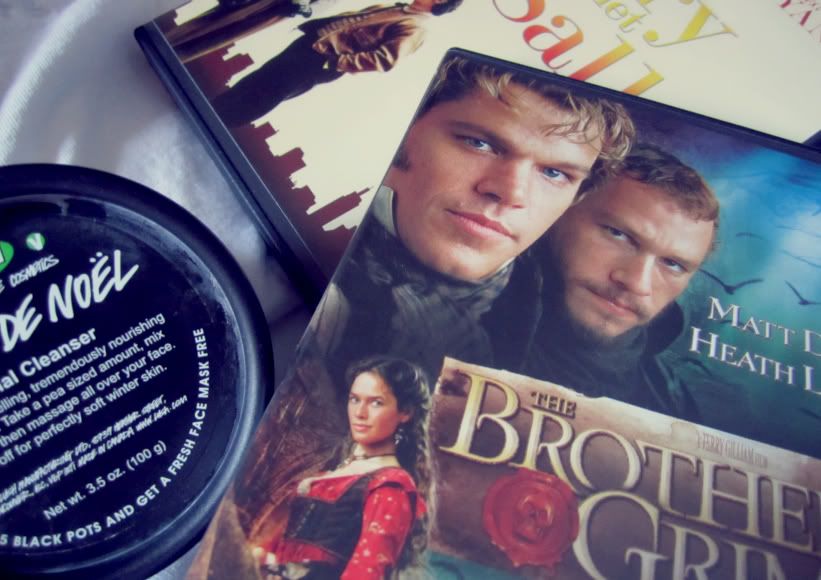 Lush's Bûche De Noël cleanser, a Christmas special (unfortunately), is my new favourite face cleanser. It's super moisturizing but also exfoliates so my skin feels so smooth and refreshed when I jump out of the shower. It smells really rich and booze-y, which I love. I wish they had this year round!
Anyways, those are a few of my favourite things at the moment! What are you guys into at the moment? What kind of stuff might I like? I'm also looking for new beauty products to try out, new movies to watch, etc.