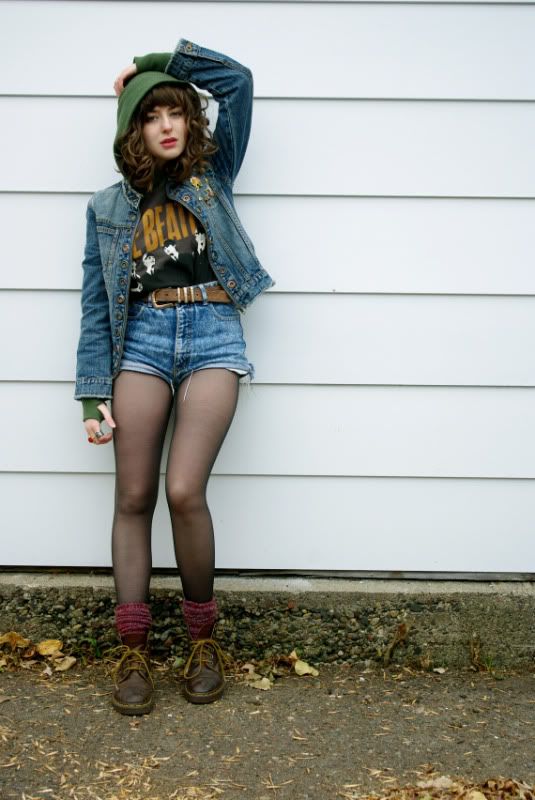 Howdy! I hope everyone's weekend went well, especially to all you Americans out there who had an extended holiday weekend to celebrate the short-lived friendship between pilgrims & the natives before we gave them small pox and forced them onto reservations. At least we now get to celebrate it by taking an entire day off from work and school, and just eating pumpkin pie instead! I had a really excellent Thanksgiving spent watching the Macy's parade, spending time with my family and a few friends, and being with my boyfriend, who is the greatest ever (teenage girl moment over.....almost....)


Here's a photo of us that I'm posting just to stare at while I write this. No, I'm kidding (a bit)! I actually ripped this from his sister's Facebook because I wanted to show off what I made...! And that would be the vest and tie, sillies, not the boy! Yupp, I made the vest for him as a present, and then Thanksgiving morning as I put on my orange dress, I thought to myself, "Hmmm...I had a lot of excess orange fabric from hemming this dress...maybe enough to make a neck tie!" And I sure did. So I made him this tie and we matched all day and probably made people have to run off and vomit from our cuteness. So that was my Thanksgiving!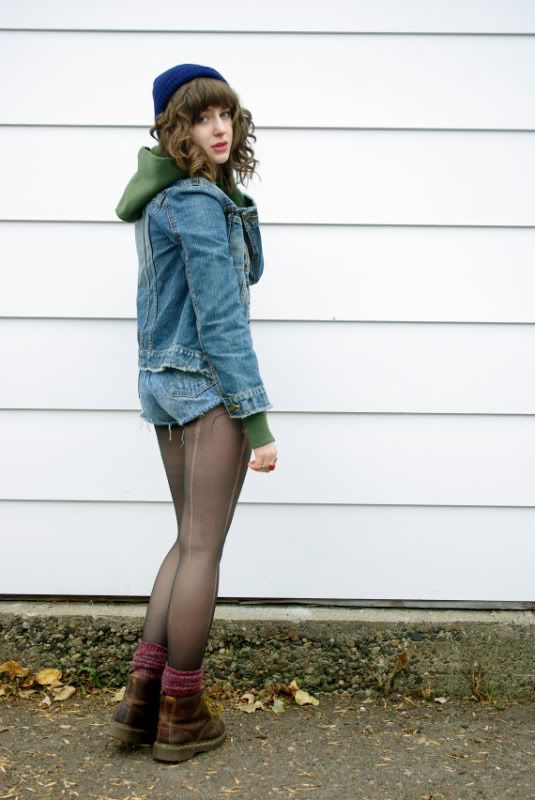 Anyways, back to the original reason of posting and that reason would be...that this is a fashion blog!!!! Sillies. So here is what I wore some time ago. I was channelling a grunge look here, mostly because I wanted to wear this old olive green coloured hoodie. This is probably one of the most loved articles of clothing that I own. It's soft and worn in and the comfiest. Before it became mine, it belonged to my older sister. Before it was her's, it was her 9th grade boyfriend's. And before it was in his posession, it was probably some skateboarder friend's of his.
Despite the fact that I was wearing this super duper awesome (there's some skaterboy terminology in there for ya!) hoodie, I still wasn't feeling the outfit. To compensate, I've spent the next few days wearing frilly, girly outfits.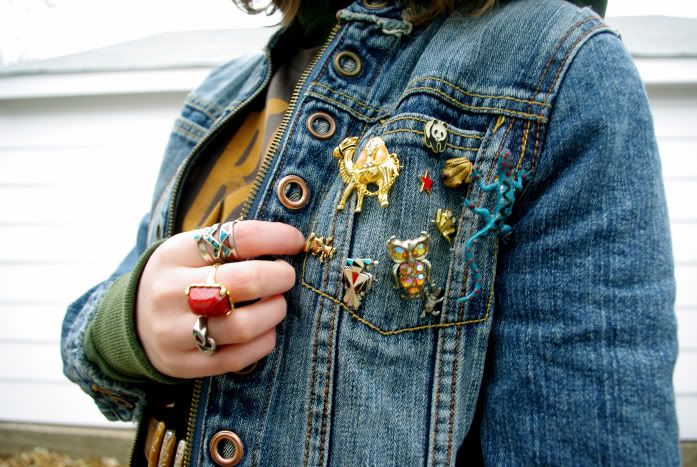 After the hoodie, my favourite part of this outfit was the accessories! I have a pretty good pin collection going, I can't even choose which my favourite is. A lot of them have little stories behind them, which is great. Like the camel...I found him in a dusty little antique store in Nantes after I got into a fight with my friend and we parted ways by the castle. And the owl...my ex boyfriend got him for me (oh, and the Beatles shirts I'm wearing here) when we were up in Duluth. We couldn't decide between several pieces, but he picked me up the owl for some month anniversary.
I also chose a collection of rings to wear. I enjoy wearing accessories, I just always seem to forget! Even despite this, I'm still not a mega-fan of this outfit. It's just too bland and is missing a bit of the Chloe-ness that's usually in what I wear... To sum it up, this is how I feel about this outfit: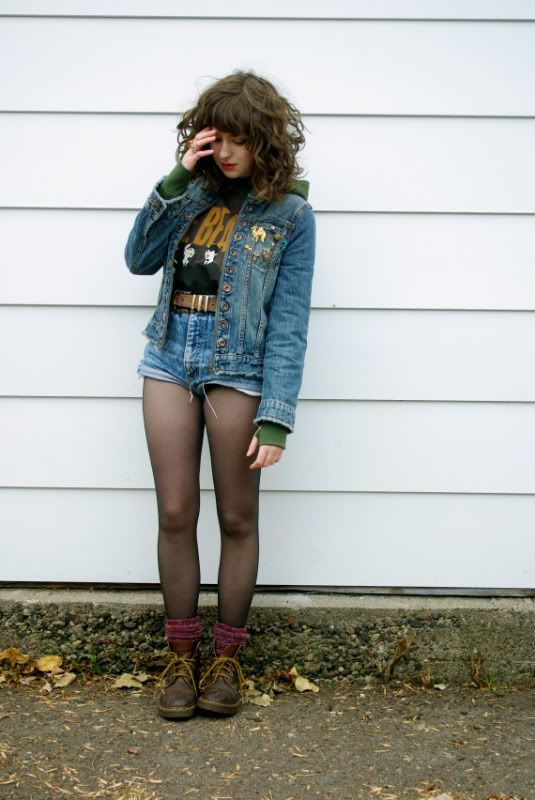 Hope you all are hanging in there & getting anxious for the holiday season! xx