Here is another segment of my 6-items-for-25-days experiment, which I've now ended. I took these photos a while ago and simply forgot to blog! I'm falling behind, it seems. Since these photos, it has now snowed and Minnesota is a lovely heaven of white and ice. I'm so happy, even if most people are not. Snow is a guarantee in Minnesota, I don't think we've ever had a winter without snow. But even so, with each new snowfall, people act like it's never snowed before and like winter is this entirely new concept which they've never heard of before. It's extremely bizarre to overhear conversations like this, but a certainty soon after the first snow.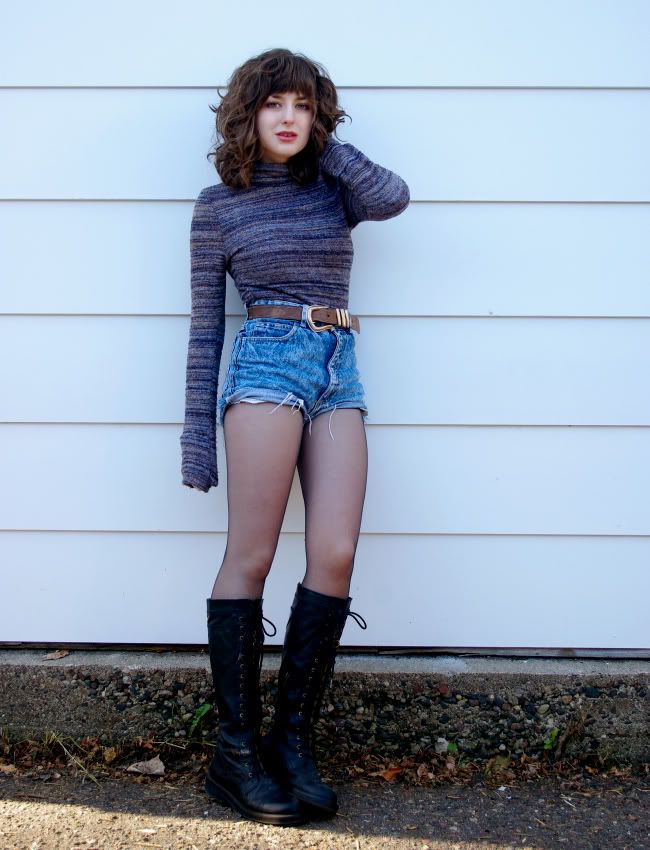 This outfit was inspired by one of Rory's outfits in the first episode of Gilmore Girls. I cannot find a single screencap from this scene, but in it she's wearing a huge white sweater (her muumuu), black tights, and Doc Martens. I love some of the late '90s grunge fashions during the first season or two of the series, and this particular outfit I've always really liked. I watch this show a lot, and have probably seen it all the way through about 5 times at least, so yeah...you get the picture...
I love this turtleneck, which I stole from my sister's closet, because it is so warm and the most ultimately cozy sweater I own. It doesn't quite live up to Rory's muumuu, but it's pretty comfortable and makes me feel safe, so it has the same idea to it, I guess. And of course these shorts are a staple and these boots are a new favourite, which I bought from DSW last month.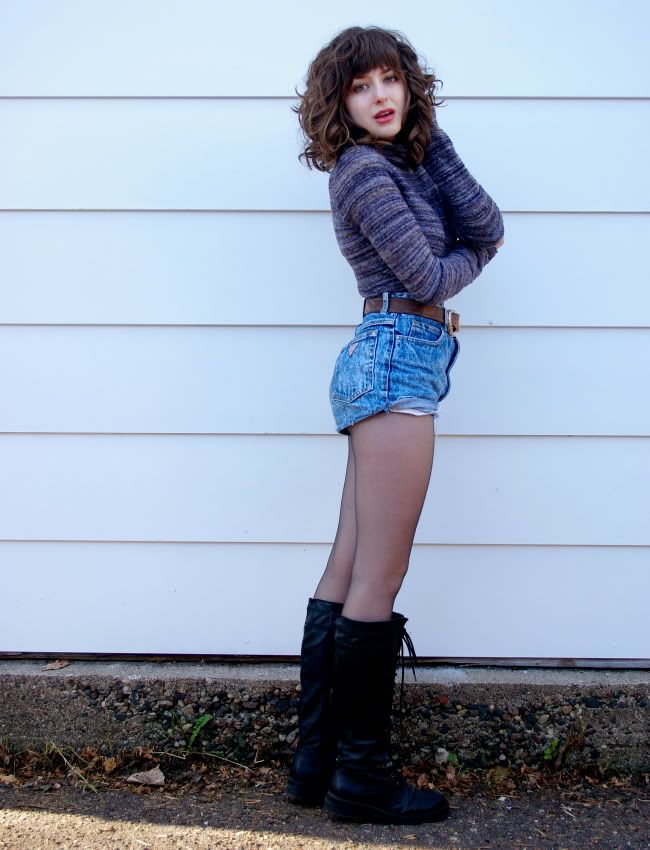 So I have a quick question for any of you who actually read this and don't just look at the photos (I know you're out there!!); do you think my style has dramatically changed since you began reading my blog? I had a comment on my last post that my style used to be so much better, and more original, but now I just look like all the other girls. I take everything that you guys write to heart, and I've been mulling this over for a while...just thinking about how my style has changed, and how I feel about it. I'll touch base with this more later but, doesn't everyone's style change over the years? And aren't we all influenced by what we see around us, including what other girls are wearing? It's never been my wish to look like everyone else, but maybe the commenter was right. How do you guys feel about your own style changes through the years?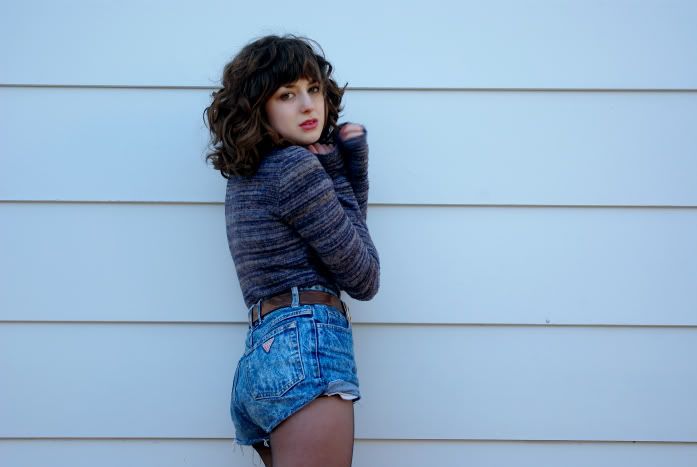 Anyways, since I've now given you something to think about, and myself too, it's time to go! I don't have classes tomorrow, and only one on Wednesday, so I'll finally have time to relax and get some stuff checked off my to-do list. It's Thanksgiving on Thursday and then the mad rush of Christmas shopping begins! Anyone else working in a mall or in retail can feel my pain, I'm sure....But in the meantime, I can relax with my boy and watch movies. I think tonight might be "Pretty Woman" while he studies, hmmm. I can never get enough of Julia Roberts or the ninties!