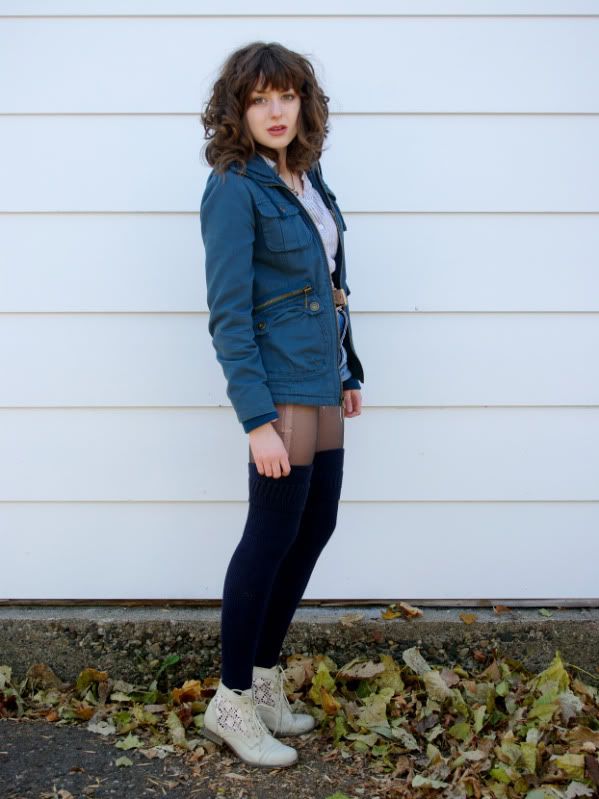 For the past 16 days, I've been wearing the same 6 items (undergarments, jackets, and accesories not included). This is supposed to continue into the next 9 days. (I've already cheated a number of times...remember the orange dress??) I'm doing this for my fashion ethics class, where we're experimenting to see if you really can wear only 6 base items and still function, professionally and socially. It's been fun, but I already did this when I backpacked Europe over the summer for 5 weeks. Yes, it works, but it's not fun! Time to quit this and start spreading some love to other clothes in my wardrobe.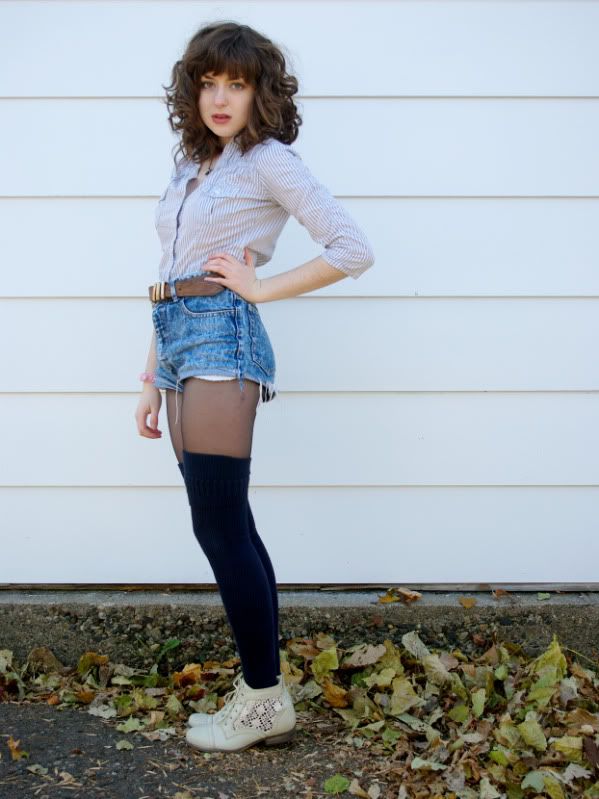 For a better idea, these shorts & this shirt are two of my six items. I also included the shirt and shorts that I wore here, a turtleneck sweater, and a blue skirt (for church and dignified events).
I'm so glad we can wear different coats, shoes, and accesories! This wasn't the case while in Europe, so I consider myself even more hardcore back then. For the assignment, we're also not supposed to shop for apparel for 25 days. There're several people in the class who refused to do the assignment, which is really silly and closed-minded. I feel like you learn a lot about yourself, your consumption, and how much excess you have in your life, by doing this. When I got back from Europe, I cleaned out my room, donating things which I never thought about or needed while away from home. It took loads of clutter out of my life and has me buying less and less. Would you guys do this experiment, too?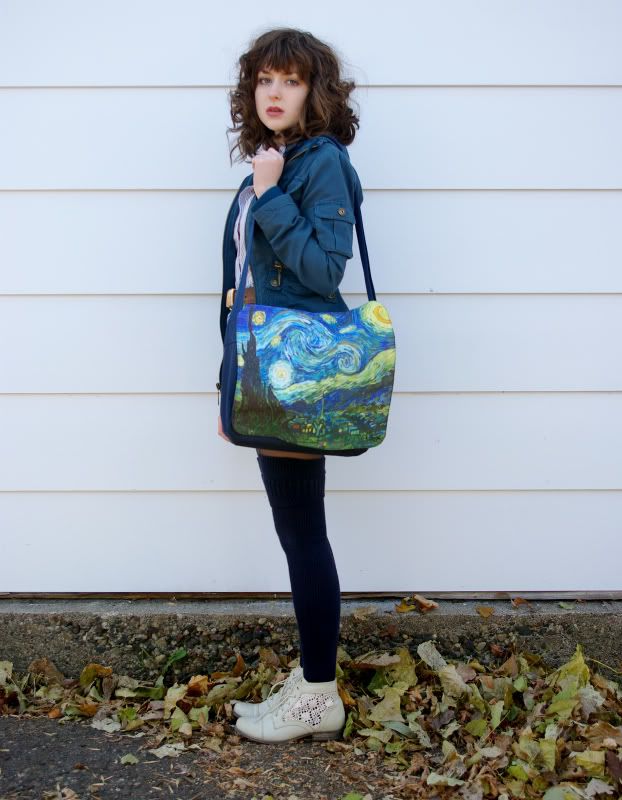 Anyways, getting off my soap box now! I was channeling a Minnesotan art student in this outfit. Wait...isn't that what I already am?? Ha, the irony! The Van Gogh bag is from Amsterdam. There was this sketchy knock off tent next to the Van Gogh museum which, mind you, wasn't better priced, they just had better stuff than the real museum gift shop. So that is where the bag is from - the sketchy tent shop.
These shoes are a gift from Wanted Shoes and I love them for the Molly Ringwald aspect of them. The white and the crochet detailing...I know she'd be jealous of me, if this was 30 years ago and if this was Pretty in Pink (unfortunately it's not...)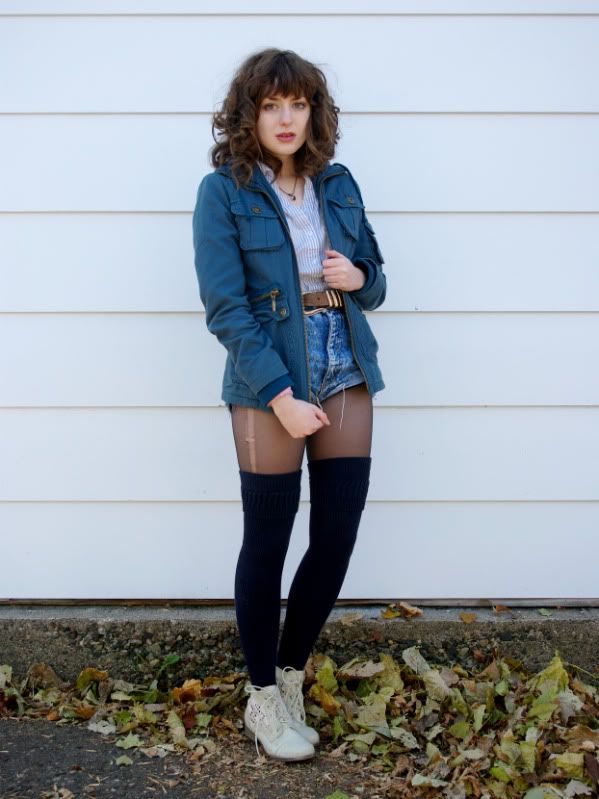 Oh and this jacket! I love the teal colour and the Minnesota-feel of it. It's by the brand BB Dakota and if I'm not mistaken, it's the one worn by Kristen Stewart in the first Twilight movie. So I guess it's a bit more Forks-ish than Minnesota-ish?? (Yes, I've read the books/seen the movie...don't let this affect your opinion of me, please!)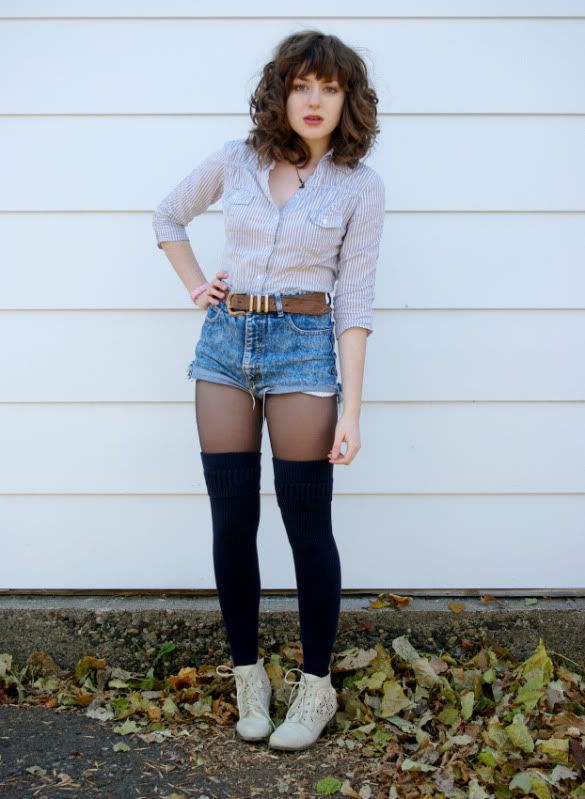 I suppose this outfit makes it seem a lot warmer out than it is... But boy, it's getting cold out! There're red noses and huge down, puffy jackets galore on campus, and I'm still anxiously awaiting our first real snowfall, where it all sticks and doesn't melt.
In the meantime, I'm keeping warm indoors and doing a lot of DIY stuff! I've been sewing, making greeting cards (the holidays are upon us!), and painting. I made these frames for by boyfriend a couple of weeks ago. It was his 22nd and I wanted to make him something sweet and homemade. I went to Walgreens and bought a couple of frames. Then I painted them a base colour (pink and orange), waited for that to dry, then laid stickers down. I followed that with a layer of blue paint, then pulled up the stickets once it all had dried. And voila! I don't think it's such a bad effect, but I definitely should've sanded the varnish off the frames first.
Hope everyone is keeping warm and enjoying the onset of the holiday season!