On Thursday night, my boyfriend and I attended a special event at the MNOpera - the world premiere of "Silent Night"! This was our third outing hosted by MNOpera and, funny enough, it landed on the anniversary of our first date...which was to see Die Fledermaus at the opera, also! For that date, I had strep throat and mononucleosis. I have no idea why he still wanted to take me out. I'm happy to say that, for this anniversary, I was in much better health!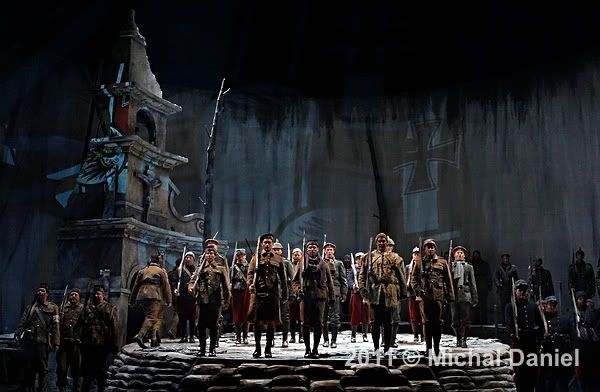 Anyways, as I said this was the world premiere of the opera "Silent Night" based on the 2005 film picture of the same title, or "Joyeux Noel." For those unfamiliar with it, the story is a fictionalized account of one of the truces which took place in the trenches of WWI in 1914, on Christmas Eve. When I first saw the dates on this opera, I thought to myself, "Hmmm...a bit early to be releasing Christmas to the public." (I say this, but my own workplace put $58,000 tress up the day after Halloween.) Interestingly enough, the director commented on this before the show, noting that they tried to make it less focused on the Christian aspect of the holiday. Instead they focused on the idea of "home" and what it means around the holiday times. The show reflected this greatly and in such a beautiful, heartbreaking way.
This here is the French general and dang, check out that uniform and the combed back hair! Everything I want in a man. Whenever I think of men in uniform, I think about some of the decorations they wear. I don't wear much jewelry, but brooches are one thing I'm more than happy to buy into. For the performance I wore my little camel pin: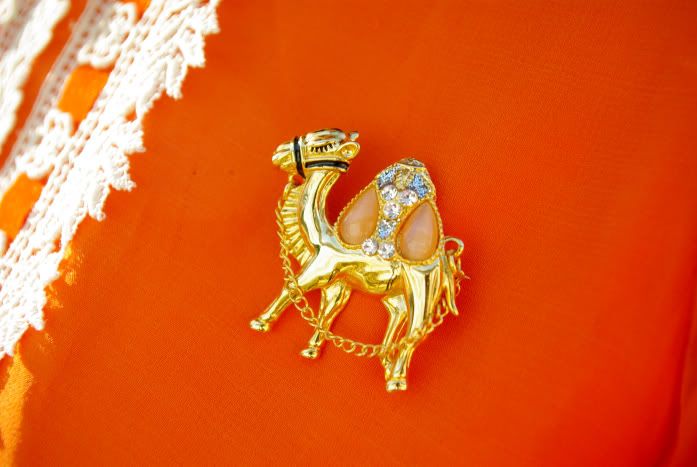 This little guy came from a closet-of-an-antique-store in Nantes, France. I adore his little face and bejeweled saddle.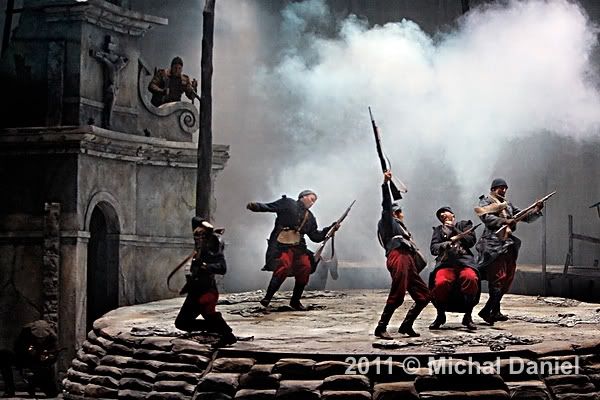 Back to the opera, because it really was just that amazing! We saw Wuthering Heights last April at MNOpera, and the staging made it really feel more like a movie than a live-performance (in the best way possible!). The use of different screens, visual effects, and lighting were just so exciting. This performance featured some battle scenes as well, which were beautifully executed and almost like a sad, battlefield dance. It was all really heartbreaking, as WWI was. The destruction and the uselessness and the deaths...it's all such a pity, even nearly 100 years later.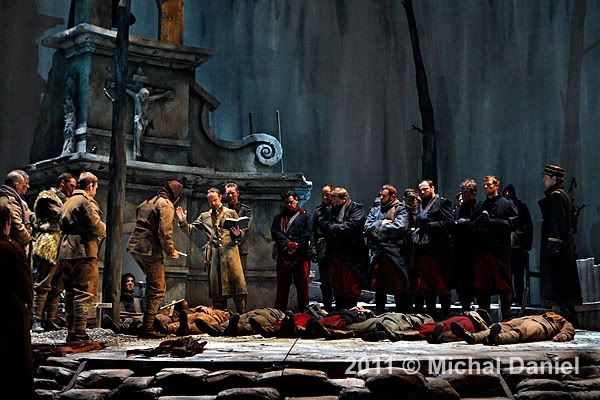 The performance came back from intermission with a very grim ending. I left the theater with anguish in my heart, as war tends to leave me, and with heavy thoughts circling my head. Such power and emotion an opera can cause! My boyfriend and I walked back to the car in near complete silence, just out of emotional exhaustion. I never entered into the theater expected to be so emotionally struck.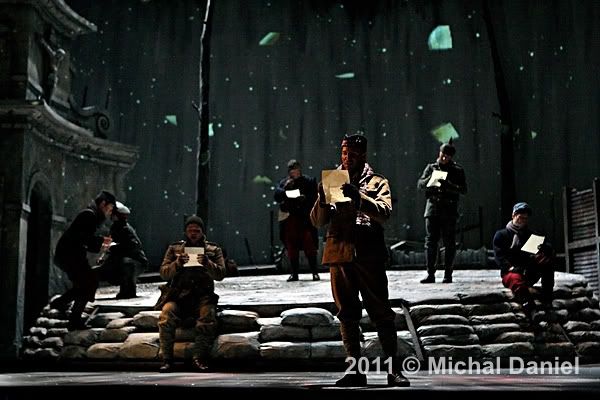 Besides the jawdropping visual effects, the music was incredibley beautiful. It had a Christmas-y undertone but was, at times, very sad and hopeless, at others frightening, and even further, joyous and exciting. See what I mean about an emotional rollercoaster? The singing was all in German, French, and English. This was the first opera I'd seen which used French, which was great, because I was able to understand most of what they sang! Yessss, my education is paying off!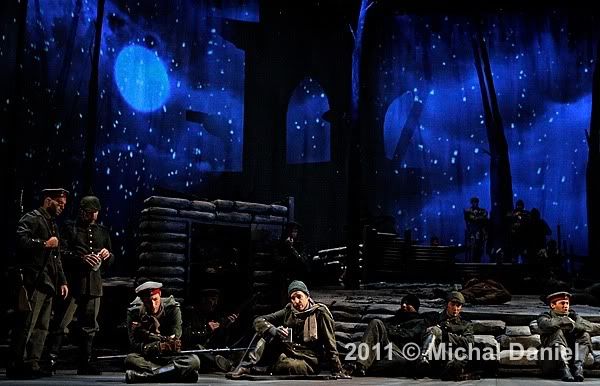 All of these beautiful photos are credit to Michal Daniel of MNOpera.
If any Minnesota locals are interested in seeing this opera (as you should be! Don't let the word "opera" hold you back from this performance), MNOpera is offering a special promotion for Tuesday night's performance on the 15th. Just enter "blog20" as a coupon when checking out online at MNOpera.org to save on up to 4 seats! This performance is at the Ordway theater in downtown St. Paul, which is probably one of the most romantic theaters left in MN.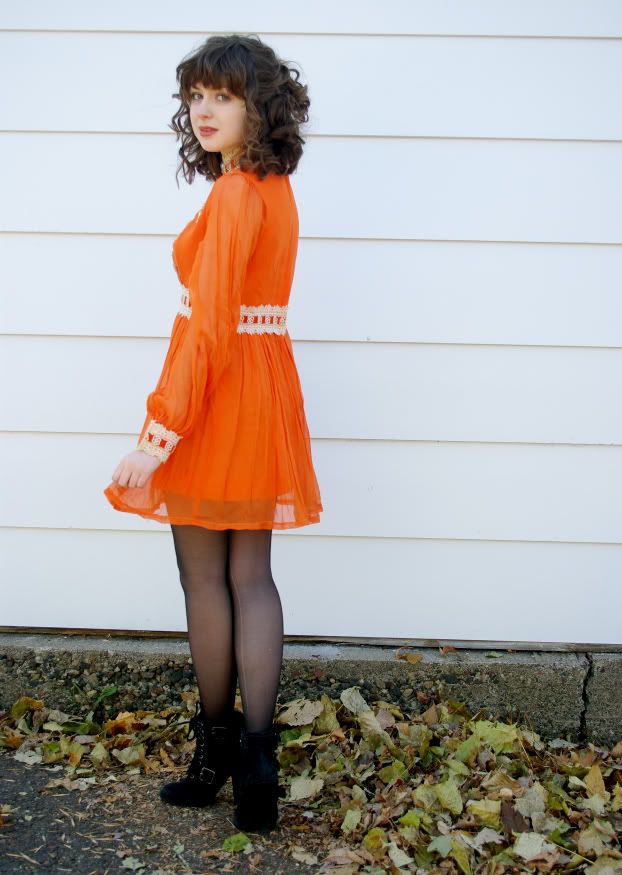 Anyways, as a quick word about this outfit that I wore! I found this dress last spring at the Selby Ave. vintage store, "Go Vintage." It was on sale for maybe around $10 because of small tears, a stain or two, and the general fact that it was atrocious and looked more like a circus tent than a dress. I wish I took a photo of it when I first bought it...I probably cut off a good 4 feet of length. Yes, it was long! Well past my feet (okay, okay, okay, I'm only 5' tall). I cut all that off and hemmed up the lining and the tulle. I mended the little tears, gave it a thorough ironing (this is the most wrinkle-prone dress I've ever owned!) and voila! Not such a bad outcome, huh?
It has such a '70s vibe to it, but I sweetened it up (and maybe threw in some '60s?) by hemming it. It still makes me think of Mama Cass whenever I wear it, though. I mentioned this to my boy last night, to which he hmmmmphed and took it as me feeling bad for myself. Though Mama Cass was often seen in unfitted, tent-like outfits, I meant that I felt more like I should be singing in quartet of hippies and wearing flowers in my hair. Oh, if only I could sing half as well as Mama Cass!