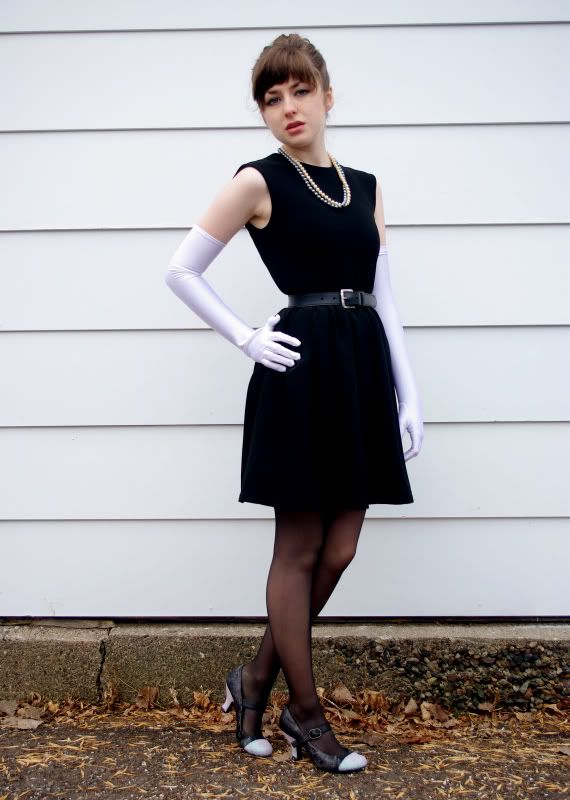 Hello folks, and happy New Year! I've decided to start 2012 off right and do a two-in-one: an outfit I wore AND a DIY post!
On Wednesday night, my boyfriend brought me to see "Cinderella" at the Ordway in downtown St. Paul. It was absolutely lovely! Going to the theater is one of my favourites. Dressing up is such fun, and being in the swim with all the other fish...what excitement! I had only a day to decide what to wear for the show, so I threw this look together at the last minute. I had been wearing my hair up and my boyfriend told me that I looked like Audrey Hepburn. So bam, I decided to do a Holly Golightly look. The finishing touch, and maybe the "Chloe" aspect of the look, are the shoes....which I "made" by myself. Here's how: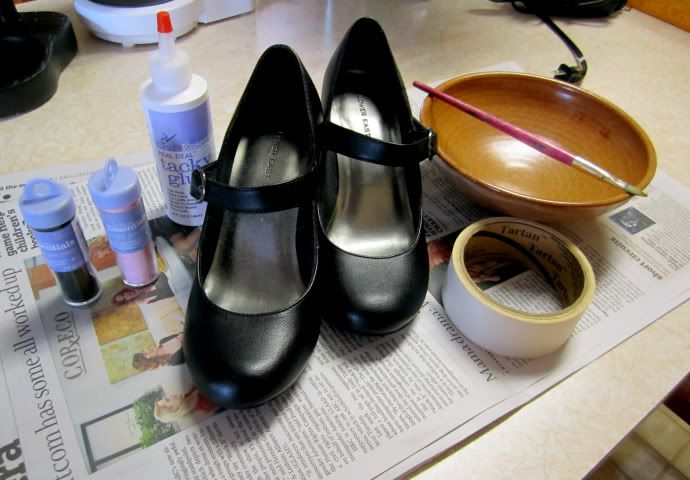 I started with a pair of black pumps that I bought at Payless some time ago. Just cheapie shoes that I don't care for. In addition to the shoes, you also need: masking tape, a bowl, a paintbrush, craft glue (I'm using tacky glue), and craft glitter. Make sure that you cover your entire work area with newspaper. You will regret it otherwise!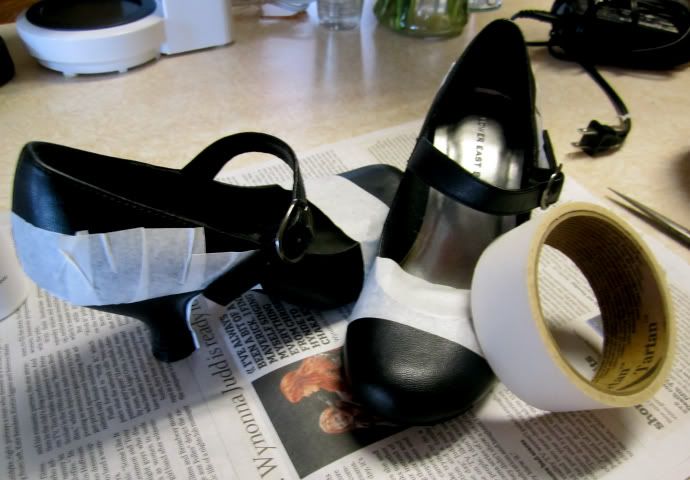 Clean off the shoes and then mark the areas that you don't want to get glittery with masking tape.


Paint glue over the area where you want glitter. Make sure it's painted on very evenly, or else the glitter will be noticeably uneven.


Hold the shoe over the bowl and sprinkle glitter over it. Wiggle the shoe around to spread the glitter. Gently pat it in place and then shake off all excess.


Continue with the rest of the shoe. After I used the baby pink glitter, I taped around the inside of the shoe and then continued to glitter the rest of the shoe.


After I was done with black, and the pink had fully dried, I went ahead and did two more layers of pink glitter. It is very important that you let the glue dry entirely!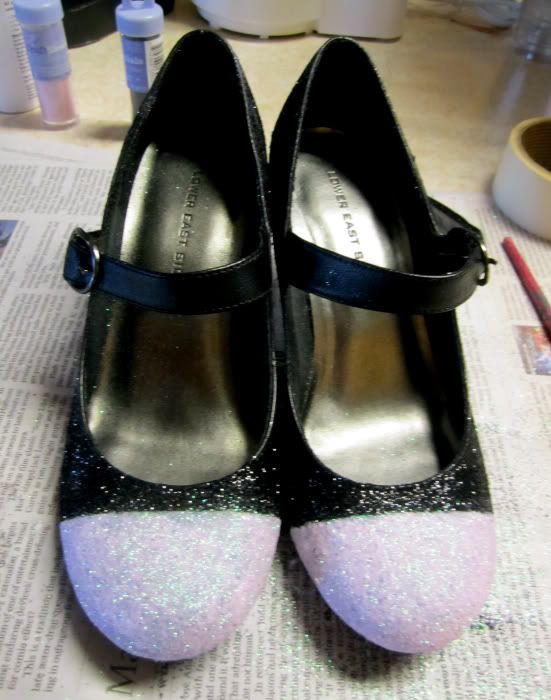 And here is my finished product!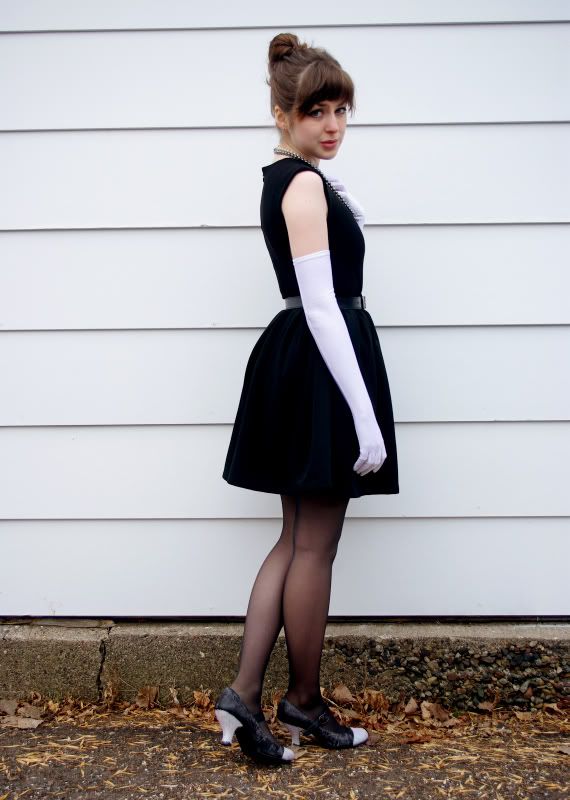 They turned out pretty well, except the glitter does make an awful mess! I've always wanted glitter-y shoes but I'm not in the financial state to buy new ones, and since these were lying around anyways, I thought I'd try out a fun craft. I love DIY!
In addition to the shoes, I wore this dress that I found a few years ago in the Macy's sale section for $6. My boyfriend at the time said that he really loved the dress, so I bought it and then never wore it for him! "Cinderella" was the first time! I'm also wearing gloves from Jessica Mclintock, a black wait belt, and jewelry that was my grandmothers (the double strand and also stud diamond earrings, though they're probably not apparent...). I've been getting quite into jewelry as of late and I'd like to continue experimenting with it more.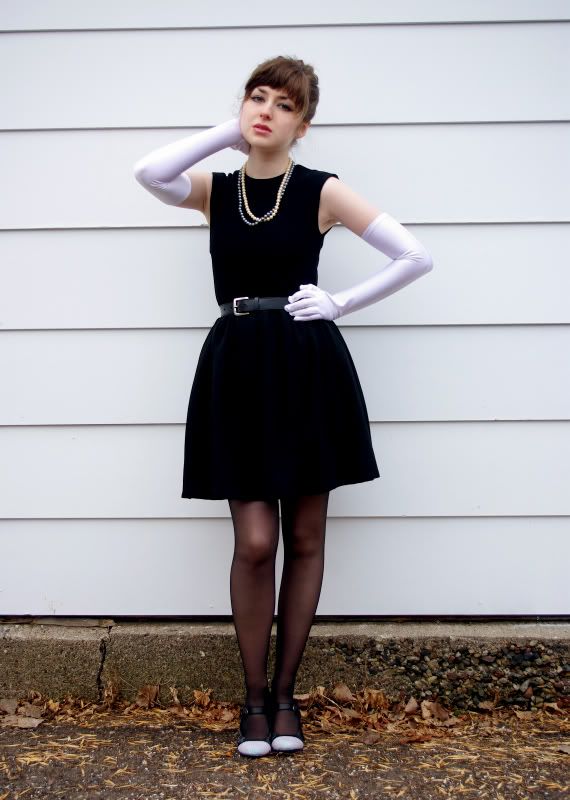 So, with the start of the New Year comes such great new events and resolutions. Expect to see more very soon, as well as a complete list of my resolutions. 2011 was such a great year, I didn't possibly want to see it end. But it has, and we'll just have to try to make 2012 just as great!