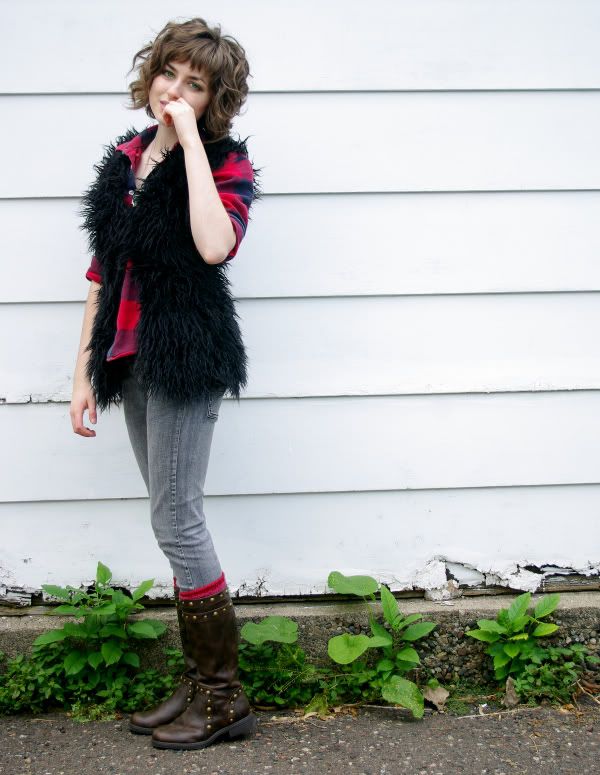 Autumn weather was finally hitting Minnesota! Keyword being was. It'd been real blustery and chilly out, but then last night we got this crazy storm and now it's quite warm out. I'm not a fan. I want autumn...now!!
The storm hit my neighbourhood really hard. I woke up around 1:30am last night because it sounded like a herd of horses were stampeding across my rooftop. Nope. Hail. I've never heard such strong hail in my life, I was seriously yelling at the top of my lungs and my voice was drowned out.... It's crazy what type of damage a storm can do. Trees were split in half, huge branches had fallen and obliterated other trees, crushing porches. Thankfully, my house was undamaged.

Now, about this outfit....these boots are new, and so lovely. They're Michael Kors & I found them in Marshall's for $30. They're kids shoes! sometimes I'm happy with my tiny feet (:
I love the red & gold accents in them. Red is one of my favourite accent colours. I added the knee high socks underneath for an added punch of colour. I'm always iffy with wearing brown & black together, but tying in grey as a medium works wonderfully and red keeps it from all getting too drab. That is my personal philosophy.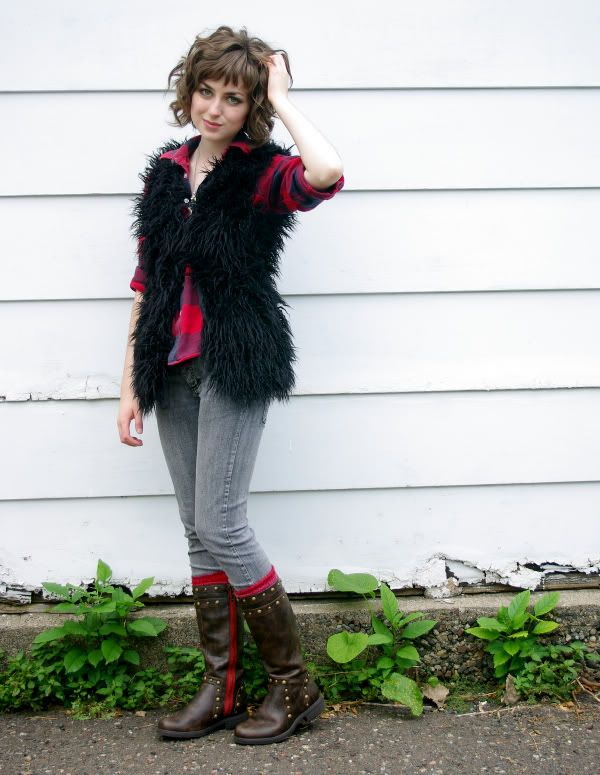 I'm really into fur right now. Faux fur, I should say. I could never ever ever bring myself to wear real fur. Ever. Even if it's "vintage." I do wear leather, though....it's just very different to me. Don't argue with me about it, it's just how I feel.
I found this vest at Macy's and at first was sort of embarassed because it is super over the top & nothing like I already owned...but my mum really liked it and I think my boyfriend did too (It's difficult to tell from a comment like, "This would be soooo sexy with nothing else on"), but it was soft and super duper warm and well, heck, I really wanted it. So I went for it. I don't care if others look at me and think, "Look at that girl....she thinks she's better than everyone else with her haughty-taughty fur vest." Afterall, I dress for myself, not for others.

I'm sorry my dog is in so many photos lately. Moses overkill? No such thing :p

Right now I really want a Spirit Hood. I think the wolf one. I may have to splurge on that....It seems like a pretty decent company, as they donate a portion of their profits to wildlife conservation, which is extremely important to me. Which hood is your guys' favourite?

The premiere of Glee is on tonight!! Who else is as excited as I am?! Plus, it seems like the perfect excuse to procrastinate on revising for my French exam tomorrow.