I can't believe that I actually wore this outfit exactly a week ago, but I haven't had time to blog about it until today! School is so stressful, it only took a week until 18 credits caught up to me - and thus, I've dropped Modern Spoken Greek (after only one class!). The title of this post was in honour of my precious pup, Moses (it means "I love you, Little Prince") but I guess now it is in honour of my one-night stand with Greek.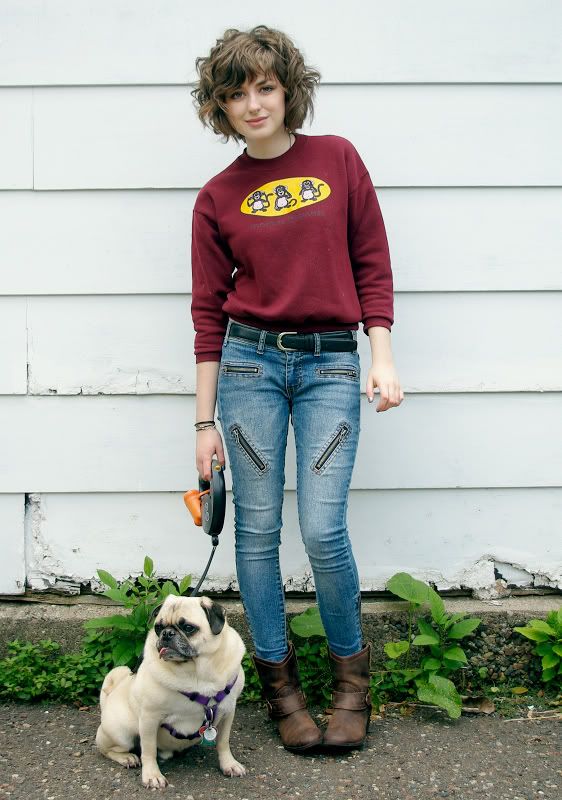 Other than dropping Greek, school has been going well. Ridiculously stressful, but I'm enjoying classes and I feel extremely relieved after deciding to drop a 4 credit class. Now Thursday nights will be my party night! er, I mean...homework night.

The fall weather has already struck Minnesota, and I'm loving every minute of it! Moses is, too. I swear, he gets cuter every day.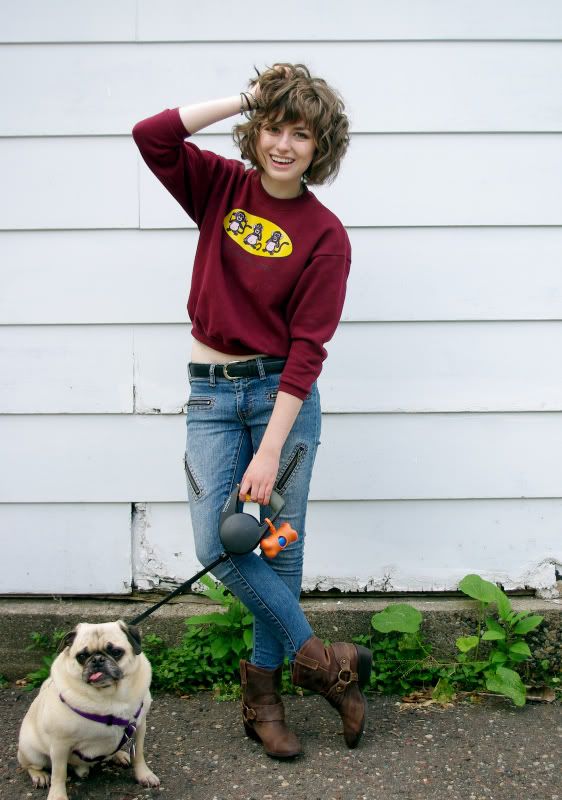 Remember those boots I posted about during my Target love affair post? Well, here they are! I love them, beautiful buckle boots in distressed leather. The problem with most boots this day is that they alll feature very impractical heels, which make running from class to class near impossible. I love these little boots because I can run in them!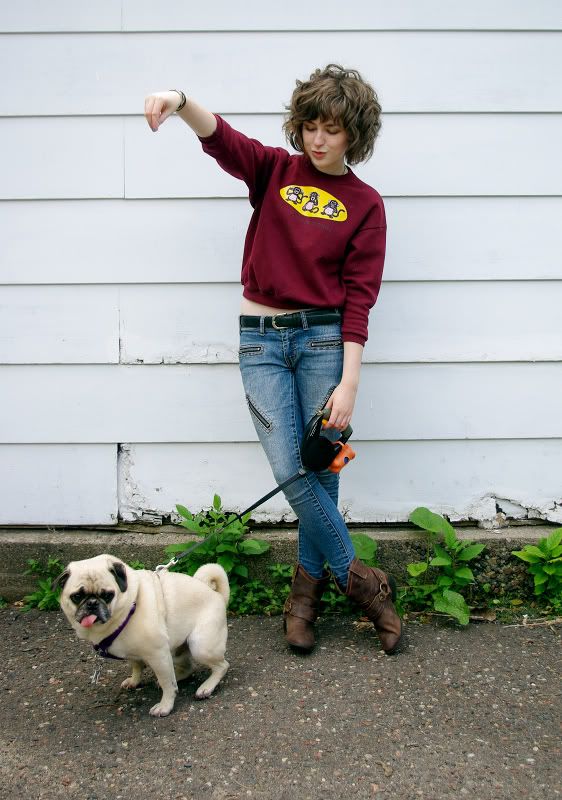 Moses really never finds me very amusing. Don't worry, I'm accustomed to it.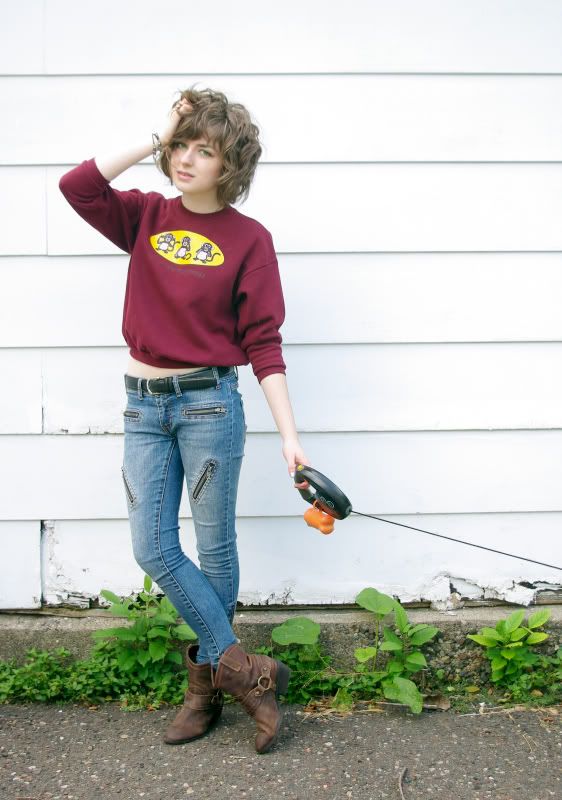 I'm still addicted to my Material Girl zipper jeans. I think that they're a huge guy magnet, too. I've gotten so many guys telling me they like my jeans! Oh Madonna, you cougar! I now possess your secret power.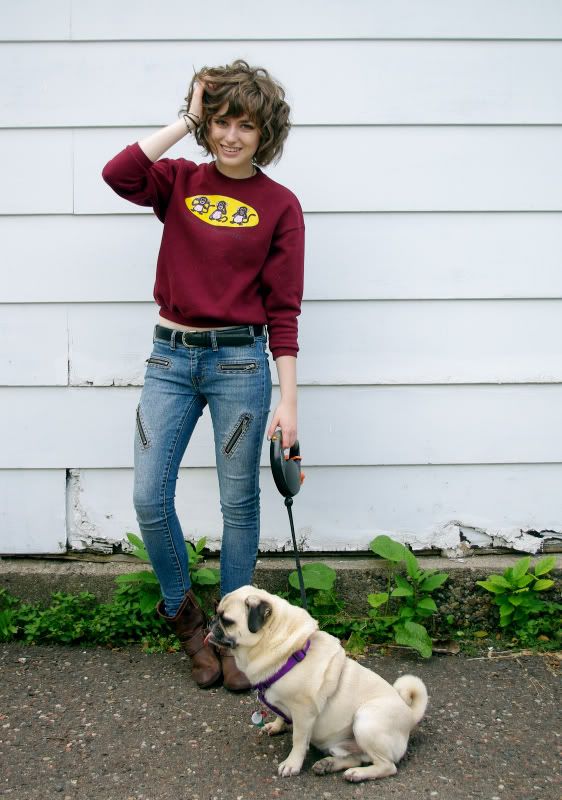 Remember this old sweater? I posted a look last spring incorporating it. It's one of my favourite sweatshirts that I own, considering that I've owned it since I was 4! Duluth, MN has this wonderful store called "Monkey Business" which sells loads of monkey stuff. I've always been very obsessed with monkeys, so my parents bought me this sweater when I was little. I still fit into it, isn't that pathetic?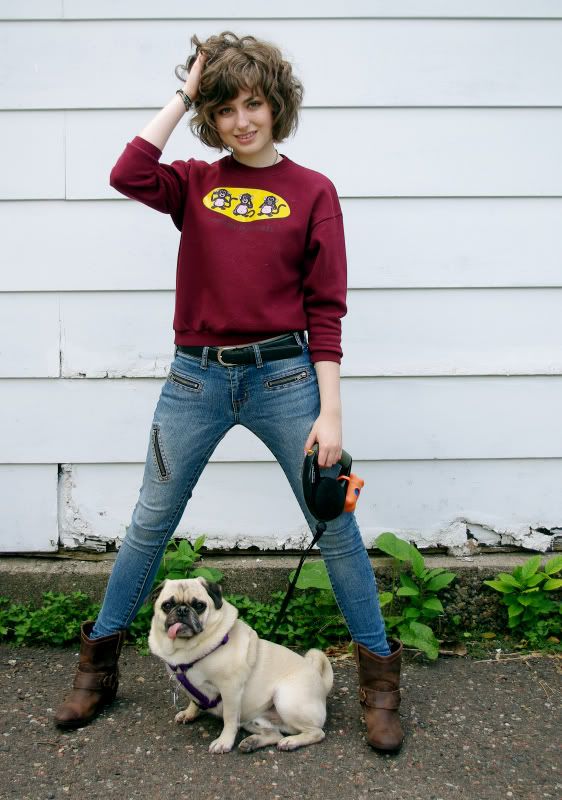 I'll have to keep this short, as I have loads of writing homework to catch up on. It's poetry time! I'm horrid at writing poems, but I actually wrote a couple with potential which I'm excited about. In lecture the other day I met an ex-marine who wrote a poem in class about me. He then complimented these pants and asked to exchange numbers. I politely refused. ;)
Also, as people may have noticed, I went over my bandwidth on Photobucket. I've made a new account for now, and hopefully sometime in early October those old photos will pop back up! Sorry for the inconvenience, stylish folks!